2017 Interior Awards Q&A: AW Architects
Andrew Watson from Christchurch firm AW Architects, winners of the Workplace up to 1,000m2 category in the 2016 Interior Awards, chats about the accolade.
What do these type of awards represent for a business like yours?
Awards such as the Interior Awards offer our practice a window to showcase the hard work and talent of our team to a wider audience than we would typically receive via word of mouth or our web/social media presence. Winning the award also provided a vehicle to promote our brand through the web and social media.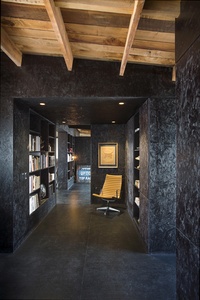 What was the reaction to the award from colleagues and clients?
The reaction was amazing, with extremely positive feedback all round.
How did you find the process of entering the Interior Awards?
The process was well explained and made our entry easy. The information required, and its gathering, was a catalyst that began a studio discussion about how the design process worked, which ultimately led to a more comprehensive explanation of the project to the panel of judges.
Where does the trophy presently live?
It is proudly displayed in our boardroom.
Would you recommend others enter the awards?
Yes, we enjoyed the process. The rewards and publicity were great to receive and helped promote AW Architects as a brand to a wider audience and client base.
The Workplace (up to 1,000m2 and over 1,000m2) category recognises an office, studio, warehouse or factory.
Entries can be submitted through the Interior Awards website until Wednesday 3 May 2017.