2017 Interior Awards Q&A: Kate Turner
We catch up with Kate Turner, winner of the Student category award at the 2016 Interior Awards, to see how winning the coveted accolade has helped her professionally.
Federico Monsalve: So… how was the process of entering the Interior Awards last year?
Kate Turner: I found the process straightforward and the awards programme organisers were very helpful, friendly and quick to respond to any questions I had. 
FM: Why did you do it… what did you think an award could represent to you as a student?
KT: My thesis supervisor, Rachel Carley, suggested I enter. Not having entered a competition of this kind before I thought that I should give it a shot and see what would happen. As a student, the award would provide exposure which is a positive way to begin a career in the industry.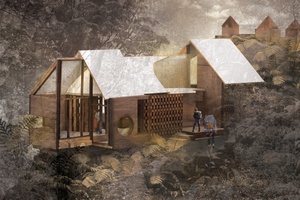 FM: Did presenting live to a jury of experts make you re-think, review or pose any interesting questions about your project The Fictional Generator? Was it nerve racking?
KT: I was slightly nervous before I presented, as I had many key points that I wanted to convey, but once I got started I enjoyed sharing my work with the judges. I had presented my thesis a few times before so having to re-format my work into a new presentation for the Interior Awards perpetuated the further refinement of my thesis' key ideas. It felt more relaxed than a university critique. 
FM: What has happened professionally since the award?
KT: Following the Interior Awards, I entered my project into the Best Awards and achieved well, receiving gold pin. I was also interviewed on the 95bFM radio station programme 'Ready Steady Learn' about my thesis, which was a fun experience. At the Auckland Writers Festival last year I met Eleanor Catton (the author of The Luminaries, the novel which inspired my thesis), and gave her a small booklet consisting of images and a description of my work. 
FM: What did you do with the $1,000 prize money?
KT: I still have it saved! It will go towards something special.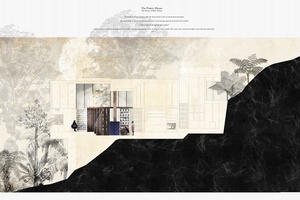 FM: You were still studying when you entered. Where are you at in your career today? 
KT: I have been working for just over a year now at Jose Gutierrez, where I have the opportunity to work on both architecture and interior based projects. 
FM: Would you recommend students enter the Interior Awards programme? Why?
KT: Yes. It is an opportunity to gain experience in delivering a concise and clear presentation of work as well as gain some exposure.  
To be eligible for the Student category award, entrants must be aged 28 or under and be currently studying full time in 3rd, 4th or 5th year or recently graduated (end of 2016) in the fields of interior design, spatial design or architecture. Entries are accepted from individuals and teams.
Entries can be submitted through the Interior Awards website until Wednesday 3 May 2017.