Chris Duncan and Joe Yen run Tur Studio on Auckland's K Road: a shop and gallery that also doubles as their apartment. Tur is home to a large loom that Chris uses to weave cloth into wearable pieces or art (he recently exhibited his work at Pah Homestead gallery in Hillsborough, Auckland, in Vanished Delft, a collection of handmade contemporary objects). Rebecca Thomas sat down with the pair to find out why they think design isn't just something that hangs on the wall to be admired.

Why did you chose to live and work on the notorious K' Road?
Joe Yen (JY): We were looking for a studio space for a couple of months. It made sense to have a shop, house and studio rather than just a studio space. Just having a studio is expensive, and having a living space is double, but when you have the two together it's better. It's a really old model of business.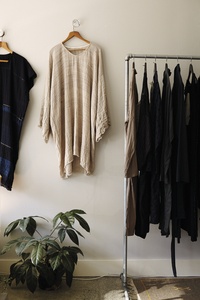 Chris Duncan (CD): At the beginning, we weren't sure what section of the world we fell into, after a while we realised it wasn't fashion. It's more craft or applied arts. That's helped us figure out how the space works.
What got you interested in weaving your own clothes?
CD: I was living in the middle of nowhere, a town called Wye River, two and a half hours south-west of Melbourne. My sister bought me a loom; I must have mentioned that I wanted to start weaving as something to do.
The lady I worked with gave me a box of wool, and I just started playing around with it. I was living out in the forest in a little house near a small town by the sea and had lots of spare time. I'd seen a little bit of weaving when I had been in India the year before.
Joe you curate a lot of the pottery that you sell here. What attracted you to pottery?
JY: When a piece is hand-made and not mass-produced, every single piece is different. I think something you use every day should be beautiful.
How do you differentiate between a practical piece of design and one of the art pieces you either make or sell here? Or is it fluid?
JY: The clothing that we make… it's hard to say – there's a cross-over. It's not mass-produced; we make each one ourselves, so you can call it an art piece.
CD: You can start to ask questions like what is art. The Japanese concept of design is that everyday objects should be beautiful and have these little details.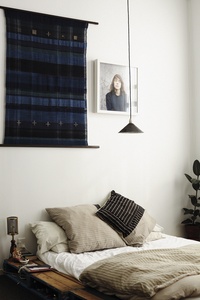 JY: It's up to the person who decides to own it or have it to decide how they would like to treat the piece.
What do you two think is the best and the worst parts of running your own creative business?
JY: I think we get the freedom to curate the space. The most challenging part is that it never ends and we can drive each other crazy. We don't really have a lounge; this is the lounge (the studio space) so you go straight to work.
CD: It feels like it's never-ending. It's a good and a bad thing.
If you really want a break, what do you do?
CD: I just bury myself in a book and drink a bottle of red wine. It's nice to be in the forest by the sea. K' Road is really great culturally, but the road drives me crazy, the cars. It's really restorative to get out of the city; it's good for your brain.