Auckland apartments to watch
We look at some high-end apartments, both completed and in construction, around Auckland.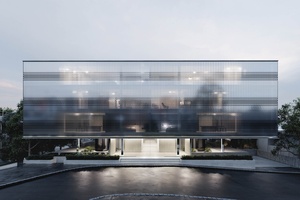 Auckland architects Monk Mackenzie have been busy with the design of two apartment developments.
Edition in Parnell is designed with a street-facing façade of Italian glass bricks, which are broken up by a band of aluminium framing, providing porosity and openings throughout.
 "This allows an agregated view through the building, which allows for street activation without the need to punch large openings in the façade," explains architect Hamish Monk. The two-storey apartments will have luscious gardens on the ground floor, and the interiors are designed by the award-winning Bureaux.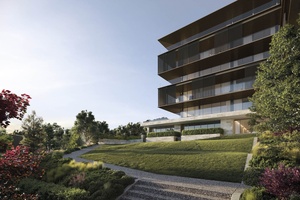 Soto is also a highly finished apartment development by the architects, featuring internal spaces by Hare Interiors and a 1,100m2 central garden and lawn designed by Boffa Miskell.
Situated on the border between Remuera and Meadowbank, Soto offers seven independent three-storey pavilions, and 58 apartments in a six-level building. The apartment building is designed with horizontal layering to help it to co-habitate with the established single dwellings in the area.
editionparnell.co.nz  soto.co.nz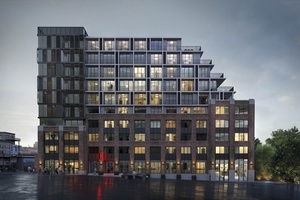 Designed by Paul Brown Architects, 59 France apartments are expected to be built in the site currently occupied by the infamous and soon to be defunct music venue King's Arms. The façade takes its main cues from the old brick works that used to dot the area in the late 1800s. 
However, it turns entirely more modern on the upper levels. "The architecture becomes an irregular concrete form with expansive glass to frame the views. The building is capped to the southern intersection with a black mesh chequered box to add drama as you approach the building," according to Kelly McEwan, development director for the developers Urban Collective.
"The objective to deliver a warehouse conversion type aesthetic is calculated to deliver a look found more in boutique higher-end single housing in Sydney or London," continued McEwan.
The mixture of old and new as well as an enviable city fringe site with protected sight lines make this a desirable, somewhat gritty and undeniably urban space. 
Aria Apartments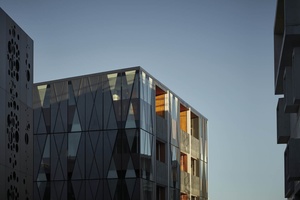 Designed by TOA Architects for an exceptionally prominent site on the corner of Ponsonby's Vinegar Lane, Aria Apartments features a façade that is made almost entirely from curtain walling, with a geometric design that was influenced by traditional Maori taniko weaving patterns. 
"Aria was developed over quite some time to be the jewel to the street. We were inspired by the geometric rhythm of taniko, and this is a modern interpretation of those patterns," says architect Nicholas Dalton. Additional to this, there is an agricultural bent to the design, which is evident in the use of timber in the recessed balconies and galvanised steel balustrades.
The building houses 20 apartments, each of one or two bedrooms. It gained a 6-star Homestar rating, with all communal lighting powered by solar panels, excellent thermal insulation and double glazing. The patterned glass and geometric shapes of the façade are an arresting feature in the interiors, which have a lofty 2.7m high stud and have been designed by Sonya Cotter.