Architect profile: Tim Dorrington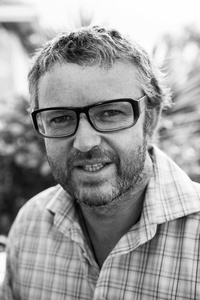 Tim Dorrington is an Auckland-based architect, whose portfolio features many residential homes. The 40-year-old started out designing in his spare bedroom, before forming his own firm, Dorrington Atcheson Architects, in 2009. We asked Dorrington about his career and the evolution of New Zealand architecture.
Urbis: How/when did you got into architecture? 
Tim Dorrington: I fell into architecture almost by mistake. I've always liked to draw and I didn't want to do law or accounting so it was almost a choice of what I didn't want to do!
I studied at University of Auckland  and grew to love the way we learned to think.
U: How did your firm, Dorrington Atcheson Architects, come to be?
TD: Originally it was just me in a spare bedroom when I got some private commissions while I was working elsewhere. These became more frequent and I left my job to set up the first iteration of Dorrington Atcheson Architects full time. We got busier and I approached Sam Atcheson, who I had worked with previously as I knew we worked well together. The team has slowly grown as the work has demanded, yet we are still a petite firm of six people.
U: You designed a Herne Bay, Auckland, home, featured in Urbis issue 82. Tell us about the brief from the client. 
TD: Owners Geoff and Max had just bought the house when they got in touch. The house wasn't really working for them, both in presentation and layout, but the site was great. We had a large wedge-shaped, park-like site and some great existing house and landscaping features but the house was broken up into many small rooms that didn't link together particularly well. It felt dark and old.
Geoff and Max wanted to retain a lot of the existing house, but to put a new spin on how the existing house worked and expressed itself. A large part of the brief was to re-present the house to the street and to open the interior up to the private garden.
Spatially, the house needed to be reorganised and laid out to suit the new occupants. It was really a project of subtlety – many small, considered moves to transform the existing house into the new, adding minimal new materials to the existing rich material palette but trying to use the existing palette in a fresh way.
U: Tell us about some of your favourite projects to date.
TD: That's hard! Some of the most rewarding projects can seem quite innocuous but the relationship between architect, client and builder have made the process enjoyable. From an architectural standpoint, I have a soft spot for the Matapana house on Waiheke Island, as it's essentially the first project I designed. 
U: Describe your design aesthetic - are there signature elements to your work that make a project a Tim Dorrington project?
TD: Our firm doesn't have a fixed style but there are some undercurrents that run through our projects. The architectural result is a response to the site, client, brief and budget - all of which, by their very nature, are different. This keeps it interesting. In saying that, there is an honesty of the materials and structures we use. We like a reduced aesthetic that removes the unnecessary from the palette to provide a clean composition of massing and materials. This enables you to read the composition of how the project is put together.
U: Where is New Zealand architecture at the moment - how has it evolved and changed in the time you've been working?
TD: New Zealand architecture is in a really exciting place and has been for a while now. I think that we've got some great architects and some great projects going on in the contemporary arena. There's a casual bravery in New Zealand architecture; there're less formal and historical constraints as we only really starting to find an individual voice in the last 50 years.
U: What's your own house like?
TD: It's been a ongoing project for the last eight years and we may (very nearly) actually be finished. It's a bungalow from the 1950s' that we have gutted, rearranged and added a big contemporary box to. It's pretty open with a mix of natural materials, black and white, and a decent amount of built-in furniture. 
U: What would be your dream commission?
TD: All my commissions are dream commissions! I love drawing plans, working on new things and working with clients to help realise their ambitions. In saying that, I've always wanted to do a treehouse.