The Aston Martin hierarchy jetted into Auckland recently and the Englishman driving the brand came armed with big growth projections.
However, Andy Palmer is adamant that his company will remain rooted in the luxury car market: "We're not in a commodity business – more an anti-commodity business – with high levels of personalisation," he explains, "and the car market for high net-worth individuals is a profitable and sustainable one."
Still an independent, Aston Martin has endured a rocky 104 years and Palmer's turnaround plan – the so-called 'second century plan' – aims to make the company sustainable with seven new model lines in the pipeline.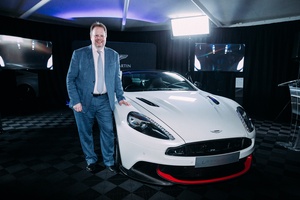 "We want to put the tempo back into the company so it can sustain itself, to make it less vulnerable," Palmer says. "And to do that, we want to be a creator of art rather than just a purveyor of cars… we aspire to make the most beautiful cars in the world."
It's no secret that a pillar of future growth will be a crossover GT (the DBX of 2019) and Palmer has tasked chief designer Marek Reichman with designing "the world's first beautiful SUV".
While the second century ushers in design change, Reichman insists Aston Martin continues to be about timeless beauty and elegant proportions, not about shock. He points to instantly recognisable Aston language, especially the one-third, two-thirds proportional relationship and the lines informing airflow along the bodywork of the new DB11, of which he is justifiably proud.
"The definition of these lines is drama. A strong sense of movement and traces of a predatory nature are reflected by what you feel and hear when you get inside. An Aston Martin portrays a moving dynamic, even when the car's stationary."
To his (and Palmer's) credit, Reichman is also quick to acknowledge a lack of individualisation in a decade-long series of front-engined Aston GT cars whose designs were clustered in one area.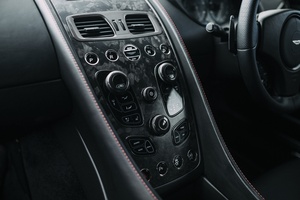 "It's critical to be able to distinguish one model from another. If I look back to the start of DB9, I think what was important then was to establish Aston Martin as a maker of rare and exclusive sports cars and we suffered from Russian doll syndrome in that new era.
"One of the briefs that Andy Palmer gave me upon joining was that if he were to bring his mother into a showroom, he wanted her to be able to tell what was a Vantage, a DB11 or a next-generation Vanquish. As a result we now do a lot more research into the specifics of each of these customers to better understand their different attitudes and life stages.
"The cars have a different feeling from one another, and I can define that through the design and proportions of each. For the Vantage buyer, what matters most is how the car drives and sounds. It's a dedicated tool, a scalpel. By comparison the DB11 is a samurai sword."
Vantage may be responsible for the bulk of Aston's volume but Reichman says the DB models represent a backbone for the brand with tradition at their core.
"They are our 911, our Range Rover, with their own DNA helix running through them. With a grand tourer like the DB11, you should be able to get in the car and drive it aggressively, getting the feedback and feel of a great GT, but you should also be able to cruise to the South Island and want to do it all over again…"