Every year, the best contemporary homes in The Lucky Country are chosen. This year, a team of five judges – architects Alice Hampson, Debbie Ryan, Peter Stutchbury and Jon Clements, and Katelin Butler, editor of Australian Houses – canvassed the entire country to find winners in eight categories and a winner for Australian House of the Year.
The champions are all different from each other but have a few things in common; they are of their time, cleverly designed, made to suit their environments and endlessly covetable.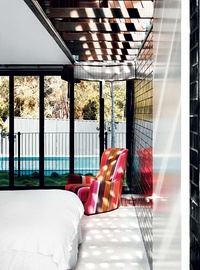 Scroll through the image gallery above for the winners — and for plenty of design elements to inspire you in your own home.
Australian House of the Year and New House over 200m² — Bisley Place House, James Russell Architect
Apartment, Unit or Townhouse — Pyrmont Apartment, bokor architecture+interiors
Heritage — East Melbourne House, Zoë Geyer Architect
House Alteration and Addition over 200m² and Outdoor — Lilyfield Warehouse, Virginia Kerridge Architect
House Alteration and Addition under 200m² — Tir Na NÓg, Drew Heath Architect
New House under 200m² — Keperra House, A-CH, and Merricks Beach House, Kennedy Nolan Architects
Sustainability — Mihaus Studio, Sue Harper Architects