Beauty & elegance: Jeremy Cole
It's been over a decade since a trip to London's Tate Modern gallery started Jeremy Cole's evolution from a working quantity surveyor (and aspiring carpenter) to a world-renowned artisan.  
"Ever since I was a kid, I always wanted to work with my hands," he explains. "I registered for a carpentry apprenticeship. But, at a certain point, when I was entering the workforce that just wasn't feasible. So I trained in something that I knew was in demand. However, I always saw it as a place-holder, not as a career. I worked as a QS for the income. I knew at some point I'd get into doing something artistic, and I would need money to get started."
This foresight and self-belief paid off. Today, Cole's delicate ceramic iterations of aloe and flax plants, orchid and lotus blossoms, peonies and lilies are award-winning juxtapositions of the botanical world and bespoke lighting. His small team of artisans hand-makes each piece in a Wellington studio-workshop and delivers them to an international clientele.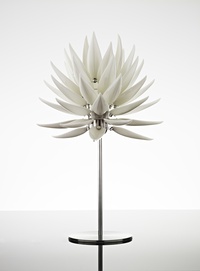 "I've finished a piece for the next Fifty Shades of Grey film. We've done a large project with Kelly Hoppen, and I'm getting to the point of releasing a chandelier," Cole says. "I think I've pushed myself very hard for many years. Now I want to take a moment to step back, and give myself a bit more time and space to reflect."
When designing these delicate creations, what's the driving force? Is it process driven by the desired look of the piece, as a sculptural element; or is the impetus more about how the final iteration will affect and work within the environment it's in?
"You have to imagine how it will work in the built environment," Cole says. "I come from a position of absolute beauty and elegance, but I do understand that usefulness has to play a role.
"This balancing act – the craft of getting it right – is what separates me from being an artist, as opposed to an artisan. Yes, I believe I am creating works of art – I sign them and I treat them as such. At the same time, though, I completely understand that these pieces I make have a practical use (beyond being beautiful), and they must serve the purpose for which I have created them."
In fulfilling its role as part of an overall interior composition, Cole believes that a light fixture, in whatever form "…needs to be a statement piece without taking over the room. It should be beautiful, lit or unlit. Any form of beauty is hard to capture and is elusive, but people will always notice where the light comes from."