Whether it's the result of great intention or haphazard decision-making, apartment interiors reflect our personal tastes and lifestyle preferences, providing a valuable insight into the way that we live and the objects that surround us. Yet the carefully selected artwork, furniture and objet d'art in this 250m2 apartment do not belong to anyone per se. They form part of an intimately crafted show flat on the 22nd floor of a residential building in Dongguan, China.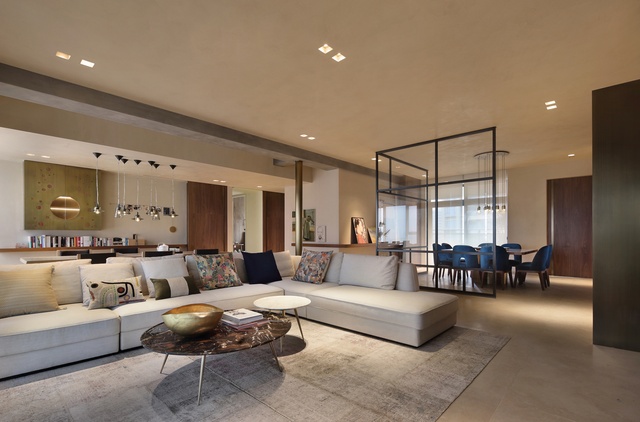 Thessaloniki-based design studio Minas Kosmidis [Architecture in Concept] were briefed by their client, a Chinese real estate company, to design a show flat that would resonate with a very particular local clientele. "We were asked to create a new aesthetic identity for a middle-to-upper-class Chinese family with a pro-Western culture and education," explains studio director and project architect Minas Kosmidis, "whilst respecting long-lasting Eastern traditions."
As a result, Kosmidis' practice was selected to work in close collaboration with a local design practice, YuQianq & Partners Interior Design, to satisfy the developers' desire for a cross-cultural design approach.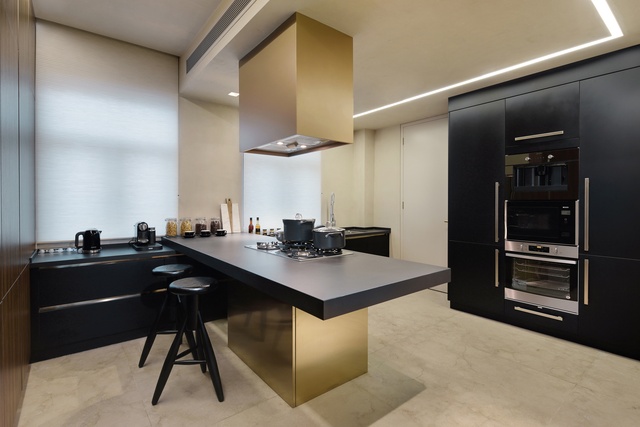 While the basic layout of the apartment was pre-determined by the building's typology, Kosmidis was charged with ensuring that the interior flow supported a quotidian Chinese routine. "The apartment was designed to have a spacious living room, which includes not only the dining table but also a space where the family can enjoy their tea together; something that is a common Chinese habit," Kosmidis explains. The tea corner and the dining table have been strategically placed close to the kitchen, the bar and the guest toilet. 
"In addition, a top priority was the choice to keep the day activities of the family distinctly separate from night activities, personal hygiene and the bedrooms," Kosmidis adds. Consequently, "the night zone" of the apartment contains two children's bedrooms with separate bathrooms, a master bedroom with a spacious private bathroom, a walk-in closet and a home office.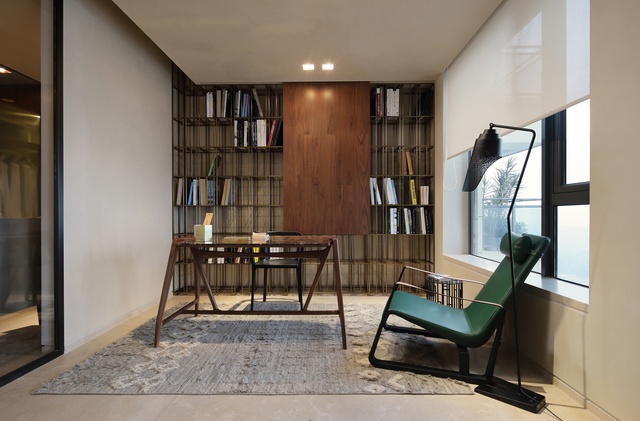 With a focus on luxury integral to the brief, Kosmidis has highlighted what is, arguably, a changing notion of 'luxury' in Chinese interiors – the continuing shift in Eastern design circles towards a stronger adoption of a Western ideal. As a result, Kosmidis has included furniture pieces from pre-eminent European design houses and materials typically revered in Western-centric aesthetics.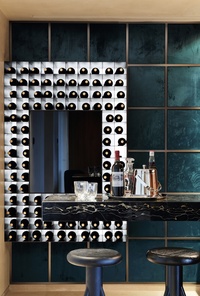 Key design elements include Moroso's Fjord armchair, Artek's Pirkka bench and Rocket stool, an Academy desk from Porada, Vibia's Cosmos lights and a Judit chair from Flexform. But many of these sit in the company of paintings and reproductions that were purchased from emerging Chinese art galleries.
"Having in mind the promotion of the art pieces, we wisely placed paintings of different sizes in each room, giving the apartment a sense of an art gallery," explains Kosmidis. "In addition, all common-use and storage spaces can be isolated by sliding doors covered with walnut veneer sheets in order to leave all vertical surfaces clear of any visual disturbance when desired."
With warmth and balance unsurprisingly high on the agenda, common-use and private spaces in the house were appropriately designed to create a cosy feeling for the user. This was achieved through the use of earthy shades, leaving the contrast of smaller elements to create an interesting composition in space.
"I see this apartment as an example of how Chinese interiors can adapt to Western aesthetics and way of thinking but without having to compromise on basic Eastern traditions," explains Kosmidis. "The luxurious feeling of the apartment is achieved not only through the use of luxurious materials such as brass and delicate fabrics but also by ensuring that the comfortable use and organisation of space were top priorities for the end-user."