Book review: Upgrade: Home extensions, alterations and refurbishments
Urbis reviews Upgrade: Home extensions, alterations and refurbishments, published by Gestalten.
"Above all, this book celebrates the unique way in which architecture marries the practical with the poetic," is how the authors summarise the ethos behind this book. And yes, its focus is on architects who marry the old with the new in ways that go well beyond the ordinary.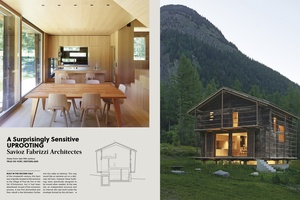 There is an old barn that's been sliced and glass windows inserted in the wound. There is an epic concrete factory that has been repurposed to become a home and studio. There are churches, a 17th-century home, boat sheds and beyond.
The majority of the projects come from Europe with those from the United Kingdom and Portugal providing the most satisfying gasp-moments. The architects featured here are not 'respectful' in the timid, white-gloved way of the preservationist but bold and sometimes extravagant, while at the same time engaging thoroughly with the work of those designers that came before.
"To take a ruin, or an otherwise obsolete structure, and bring it back to life is an act not just of respect, but also one of understanding the skills of the past."
In the current sea of books about home improvement, this tome is a real standout – one that highlights the language forged by those interpreting old structures and translating them into contemporary shapes, new sculptures and thoroughly mature expressions. We like.