Cork pops on The Wine Cave
Tucked away between the hustle of Khyber Pass and the lofty trees in Auckland Domain, The Wine Cave is a new offering for wine connoisseurs from sommelier Joe Wang (The Northern Club, Cape Kidnapper's Lodge), opening on Friday 13 October.
Established by a small team of entrepreneurs with wide-spanning experience in wine, retail and hospitality, the 554m2 space caters to those who wish to taste, purchase and enjoy wines, small batch beers, and spirits in a luxurious setting.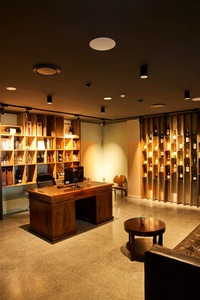 The Wine Cave is located in an unassuming former office building on Carlton Gore Road, and once inside, its architecturally designed interiors are quite surprising.  A reception area with a wall of historic wine bottles from around the world and an authentic leather topped desk greets visitors to the space, which was designed by Paterson Architecture Collective.
Venture further in and the main showroom is a sleek and indeed cavernous space with back-lit, grid-like timber shelving showing off the wares and a large 8m black, glass-topped table in the centre, reflecting the ambient lighting. The grid pattern continues on the ceiling, with expressed battens and LED tube fittings creating a sense of theatre, explains architect Liz Tjahjana.
"The design of The Wine Cave celebrates the collection and display of wine. Our response was to create a sophisticated, immersive wine experience centred on showcasing the beauty of the wine bottles as an ensemble," she says.
Each month, new tastings will be available in the main showroom, with specialist staff on-hand to explain the nuances of each tasting. A lounge area is available to enjoy the tastings, which are dispensed via a EuroCave wine dispenser, the first of its kind in New Zealand.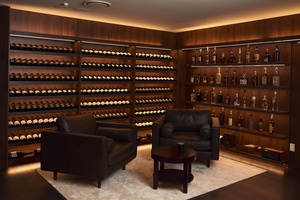 While the showroom is designed for anyone to enjoy, with tastings starting from just $10 per person, the Wine Vault is a more exclusive offering, accessible by key-card to members. Leather lounge seating and a private butler service are available in this intimate space.
Behind the Cave and Vault, a multi-purpose warehouse space is available for hire for private functions and catered parties or dinners. This includes an on-site kitchen, which also serves the showroom and vault, where cheese platters can be ordered to pair with the wine tastings.
The Wine Cave will open its doors on October 13. winecave.nz