Christchurch artist Kara Burrowes creates her highly textured artworks using reclaimed native timbers from earthquake destroyed buildings in her home city. Her work is being exhibited at Warwick Henderson Gallery in Newmarket from 27 September - 14 October as part of Auckland Art Week. Camille Khouri caught up with her to discuss her work and process.

Camille Khouri: Were you born and raised in Christchurch, and were you living there when the earthquakes happened?
Kara Burrowes: Yes I was born and raised in Christchurch but have had many extended periods overseas. I was here for the earthquakes. I live in Mt Pleasant by the beach and very close to the epicentre of the February earthquake, so there was a lot of devastation around our area and consequently a lot of houses have been demolished.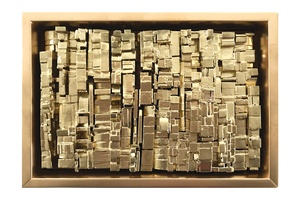 We live on the hill and from our house, you can see the city centre, which became a black hole at night with the absence of lights as the city centre was cordoned off and much of it red-zoned. The urban environment has always been a big source of inspiration for me so I was drawn even more to the changing space and have captured thousands of images since the earthquakes. These images and found objects have provided the beginnings for many of my conceptual ideas.
CK: Was it a feeling of wanting to recapture lost architecture that inspired you to create these works?
KB: I have always liked the layers upon layers of paint and history in old buildings, exposed walls, discarded objects. At the time I saw that Rekindle was using this beautiful reclaimed timber from demolished buildings so I approached them to see what they were doing with their offcuts. I took the discarded pieces and started to play with the colours and forms.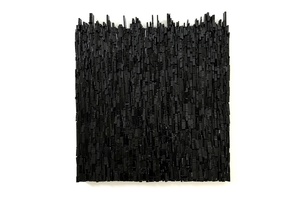 At the beginning, it was an experiment with pattern and repetition and I liked that I was preserving a piece of the city. Over time, to create precious and alluring objects became a bit of an obsession. I could really sense that people felt an affinity to the works as they had a history and a meaning.
This sort of work was a distraction from the work that I typically create. My Fine Arts Degree was in painting but I've always liked texture and sculpture, so I see this work as sitting between the two. I still create artworks that are more aligned to painting, but there are some parallels with the wood sculptures. They seem to inform each other. My work creates a distinct urban language.

CK: Technically, how are these created?
KB: The works very much move with what is available at the time. Soon after the earthquakes, the colours available were vibrant, rich and striking, lots of peaches and blues and greens. To me, each piece resembled a mini landscape and there was so much beauty in that.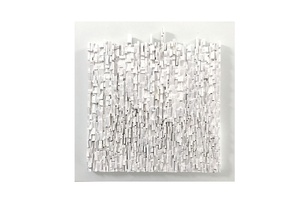 It is a lot harder to find interesting colours now but this has allowed me to highlight texture and form without colour distraction. The works are less frivolous and more serious in a way, more precious. I handpick and purchase the pieces of wood from wreckers. There is a lot of work involved in cutting the wood, which often involves cutting, gluing, cutting a second time and then finally gluing.
Spray-painting of pattern sourced from the urban environment and made into stencils is sometimes translated onto wood pieces prior to cutting and, at times, layers of spray-paint will be the last step to preserve, protect and integrate the work.
CK: Is there a different intention between the works which have even geometric shaped pieces and those with more randomised shapes?
KB: Sometimes I want to create order, and other times I like chaos. I'm drawn to opposites, conflict, tensions. For a work to be balanced and calm on first appearance and unsettling on closer inspection is often part of the work. Again, often the wood I collect and the experimental nature of the cutting and assembling will guide the direction of the piece.
CK: Could you explain the difference in meaning between the gold and black-and-white works?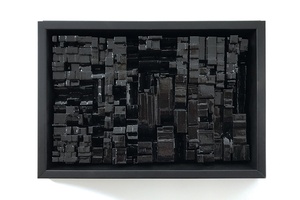 KB: The body of work for 'Overt Clandestine' at Warwick Henderson Gallery has it's concept based in the underground of the city, the urban environment after dark. The colour palette was chosen to reflect that: glints of light, precious objects, darkness, seediness, with the concept grounded in chaos, complexity, texture, structure, form. Elements that could potentially be mundane or disinteresting, were of interest for their dark and overlooked nature. Items were observed and reinterpreted, reclassified as alluring.
The golden works are glamorous, blingy, almost too much. The black works are dark, serious but on closer inspection they are as skitty as the gold ones. The white works are pure, gentle and calm but, again, up close they are a bit OCD as well. Almost compulsively, fragments are repeated, creating a dimension of movement that is both settling and unsettling.