Urbis Designday 2015 in pictures
Design-lovers and fabric-enthusiasts alike gathered at James Dunlop Textiles for Designday Pro and Urbis Designday to hear about what to watch out for in 2016. The showroom hosted a forecast of trends for the spring/summer 2016 season, presented by WGSN's Melbourne-based Lyndal Wallis. Between talks, attendees enjoyed wine and cupcakes and a series of installations showcasing trends to watch: Soft Pop (soft pinks and feminine shapes), Deep Summer (dark floral prints and ocean blues), Eco Active (reused, reinterpreted and refined weaves), and Past Modern (nostalgic textiles such as lace and velvet with a modern approach).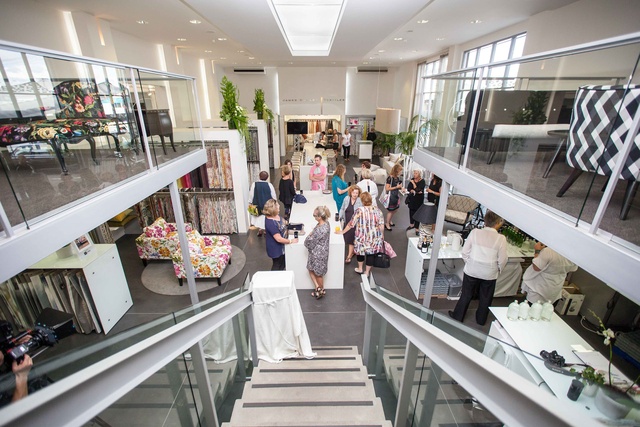 Danish furniture specialist BoConcept hosted a series of three luminous, pavilion-like installations by design trio Think & Shift. A blacked-out car park created the perfect environment for the house-shaped dwellings to glow with light and sound. Inside each was an abstract of three of BoConcept's latest products: the Monza table, the Kaleidoscope Rug and the Pine Cone lamp. While the installation space was calm and quiet, the atmosphere inside was buzzing. The BoConcept showroom offered refreshments for guests and a chance to browse the brand's latest offerings.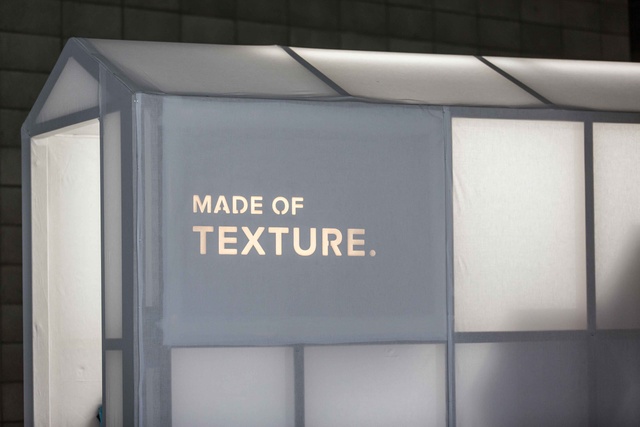 Possibly the most instagrammed installation was one hosted by carpet and rug specialist Artisan Flooring. The super-sized installation by Microsoft Surface and street art duo BMD was a 25m2 room, built especially for the event. The exterior was painted in simple block colours while inside, everything – including the ceiling, the floor, the walls, mugs, glasses, a television, couches, dining chairs and tables – was decorated with impeccable precision in signature BMD style. First, everything was painted white before being transformed with cartoon-like images of animals, creatures and everyday objects. The trio also collaborated on a competition, where attendees were invited to design their own rug to enter the draw to win a $1000 Artisan Flooring voucher (and we're seriously envious of the winner).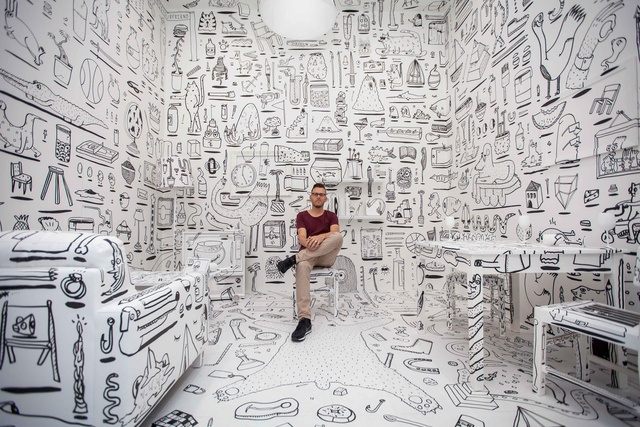 FLY, the creative strategists, hooked up with MINI this Designday to celebrate design in its many forms at Newmarket's MINI Garage. For the collaboration, dubbed Design in Tension, FLY and MINI invited attendees to create their own piece of screen-printed art. While some people were getting their hands dirty, others could admire a five-metre-long installation by Walter Hansen. Composed of five layers of acrylic with digitally-printed and vinyl-cut graphics, together they created a calculated, graphically-impressive piece of art. And, of course, the brand new MINI 5 Door Hatch, custom-designed especially for Designday was on display for everyone to admire (and desire!).
Meanwhile, back in Mount Eden, the friendly folk at Studio Italia hosted the glossy and colourful works of artist Hye Rim Lee. Lee also created a performance which included two dancers, dressed in the bunny-like manner of her artwork, to interact with the various pieces of furniture there. This was set to an emotive and heartfelt opera soundtrack. Sensual, colourful and glamorous.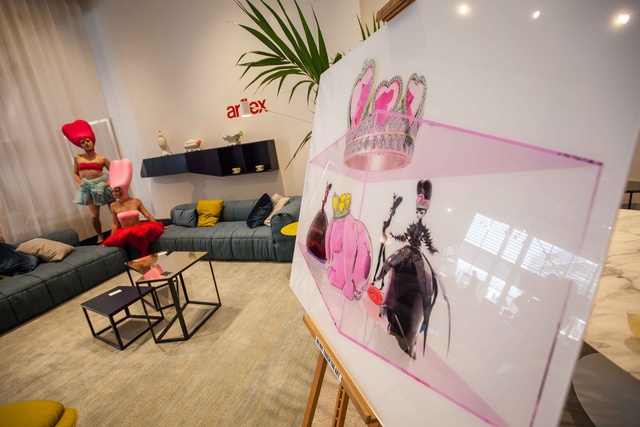 The award-winning IMO showroom was in its full glory this Designday with a series of culinary and design events going on in both outdoor and indoor spaces. Wine tastings with The Bone Line winery from the Waipara, the unveiling of the 12-metre-long steel frame Plateau table (solid salvaged rimu) and new Baker Junior stool. There were discounts and a giveaway of a stool to whoever assembled it in the fastest time! With a soundtrack by Sonos, IMO proved to be a great venue for conversations around design.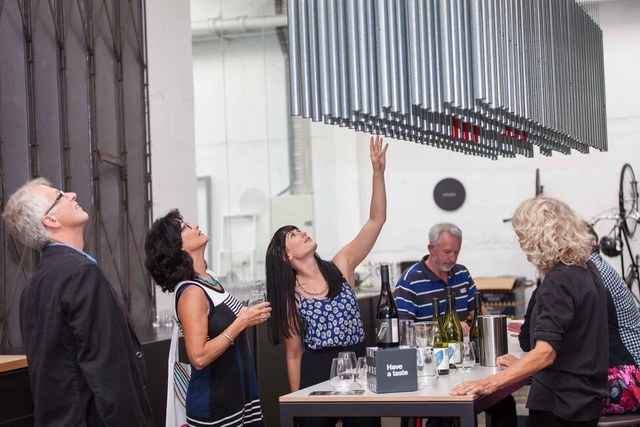 Back at Designday HQ, the Resene collaboration with four/two/one. was front and centre. The duo's creation, Head in the Clouds (perhaps the most labour-intensive installation of them all), was a massive veil made up of hundreds (if not thousands) of coloured triangles strung together with floating pencils scattered throughout.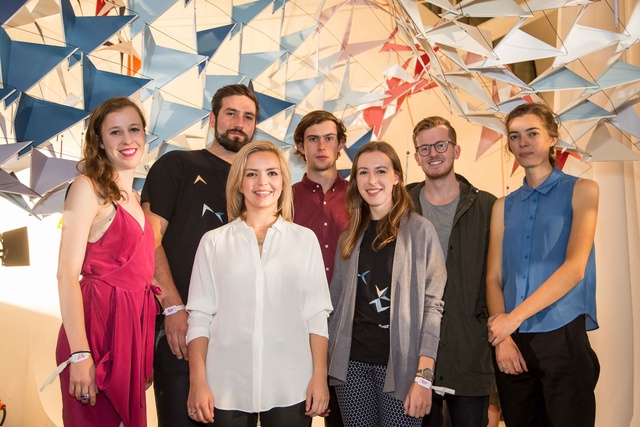 Close by, Blum's revolutionary new drawer and organisational system was beautifully presented in an all-white room with the company's signature orange trimmings. The system has already picked up five international design awards, and on Designday, it made a seriously good impression on the masses of the New Zealand market too.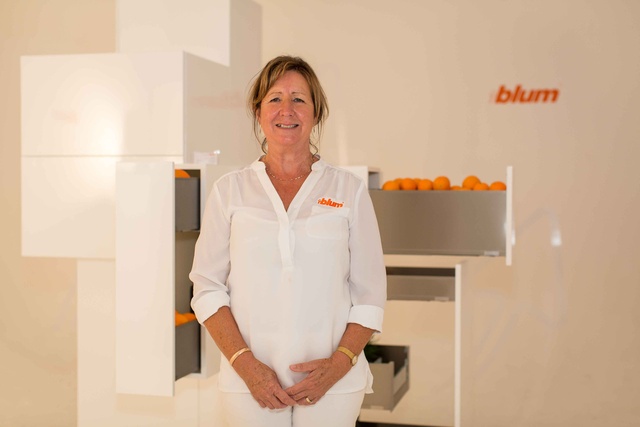 ECC, Xanthe White and Ingrid Starnes worked together to create an incredible, leafy and laid-back installation. The two designers took ECC's latest and most covetable furniture items and decorated them with floral arrangements and models dressed garments from Ingrid Starnes' latest collection. The showroom offered great hospitality too, offering coffee fresh from the Nespresso bar, a vietnamese street food truck, and my personal favourite: hand-rolled gelato.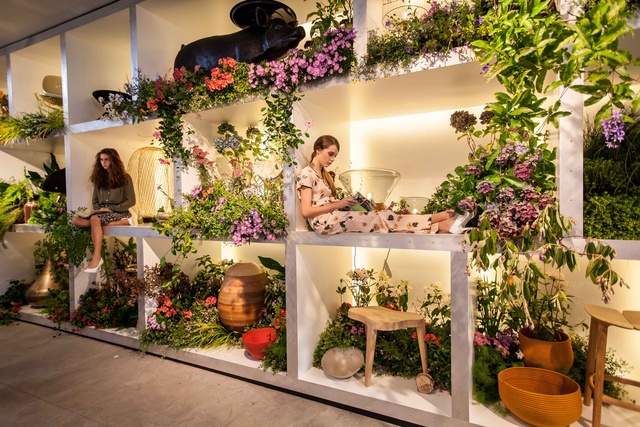 De'Longhi's showroom, which stocks some fabulous European appliance brands – De'Longhi, Kenwood and Braun – collaborated with Food Play and Coffee Lab to offer a floral, edible experience to treat all of the senses. The scent of coffee and a massive floral arrangement, including edible macarons on sticks  struck visitors as they walked in the door. As well as that, Coffee Lab gave presentations on the psychology of coffee.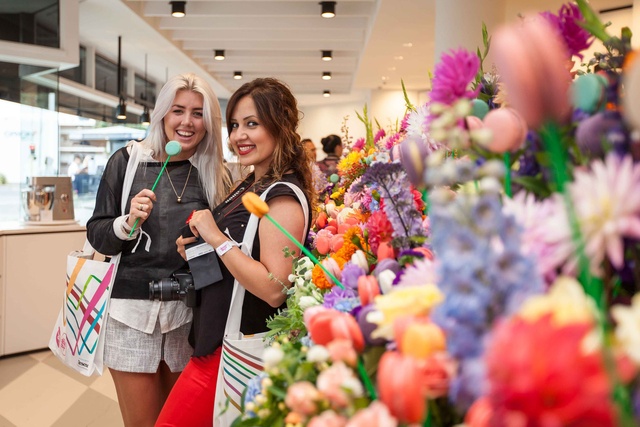 Autex's collaboration with Ctrl Space at HQ was a hit with the masses, too. The acoustics company and the interior designers created a colourful, playful environment using its soft, 100 per cent recycable polyester furnishings. Alongside the installation (complete with a swing, a custom-designed pavilion and crafty hanging dividers), Autex had music pumping and drinks flowing.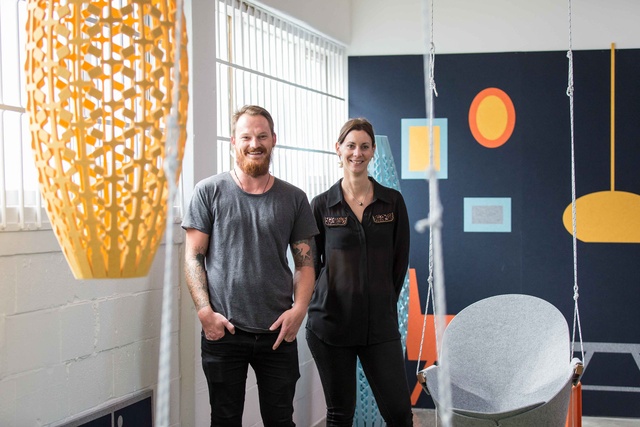 Also on display at Designday HQ was an installation by Methven and Eucalyptus Design. The duo created a huge, hanging installation made from chains and Methven shower heads in celebration of the launch of the Aio Aurajet, a revolutionary design concept in shower heads.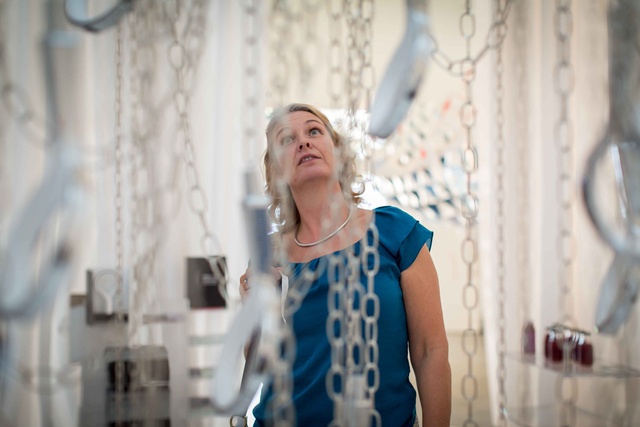 Downstairs, bathroom specialist Caroma's collaboration with footwear designer Revie was refreshing in white. The space was decorated with Revie's latest Autumn/Winter 2015 collection and Caroma's latest bathroom range, with clean white detailing. There were aromas galore (various types of waxed perfume). Designday dwellers enjoyed refreshments morning and night and on top of that, Revie hosted a design-your-own-shoe competition.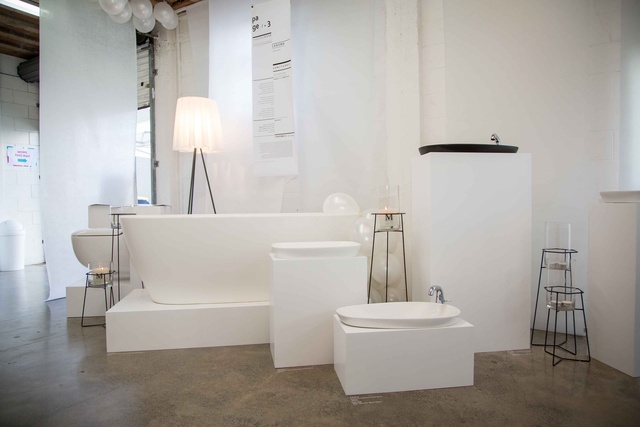 Last but most certainly not least, INZIDE Commercial collaborated with Context Architects to create a calm, subdued relaxation corner at Designday HQ. With INZIDE's Interface carpet tiles covering the floor, Context Architects used hundreds of small circles, hung carefully to create a stunning  installation. Beanbags, snacks, cocktails and lighting completed the environment and visitors loved it.