Designer profile: Francis Sultana
Renowned interior and furniture designer Francis Sultana made his start in the design world at the tender age of 19, when he travelled from his hometown on the island of Malta to his now-partner David Gill's gallery in London armed with a folder of drawings. There started a journey that has lead him to be a leading designer to the stars.
Camille Khouri talked to him about his life as a designer and also about his beautifully furnished apartment (featured in the current issue of Urbis).
Camille Khouri (CK): Were you nervous when you arrived in London that day?
Francis Sultana (FS): No there was nothing nervous about it. I was just very excited to be in a big city. I suppose at that age I was just excited with life. As we all get older you don't see it in the same way.
CK: Had you spent a long time doing those drawings?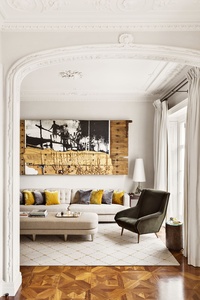 FS: I was drawing always, but I really started developing my own aesthetic for designing furniture from around 16, where I developed something that was actually real for me. From about the age of 16 to 18 I drew a lot of designs that are still important in what I design today, because I still look back at them and at the creative process, which I think when you're younger is much freer. As I'm now in my 40s, I think I'm governed a lot more by what's required of me and a different kind of sensibility.
CK: Were you hoping to get a job out of that meeting with David Gill?
FS: I had no clear feeling except that I knew what I wanted to do. When I met David, it was meeting a man who knew a lot about the decorative arts, so we just clicked, and he was talking to me about things I knew about but didn't know enough about, so there was a great intrigue between the two of us.
In the beginning, I didn't really want to work in a gallery. But I realised this was a different journey, I would learn a different aesthetic, I would be amongst people that I really wanted to be with and that would be very productive for me. Some, like Mattia Bonetti who I met when I was 19, 25 years later we've had a great creative journey together, and these are designers that were taking Paris by storm in the late 80s. They were creating a new aesthetic and I wanted to be part of that because I knew that was the kind of design I wanted to be in. The late 80s/early 90s was a time when design was flourishing in quite varied directions.
CK: Do you think your childhood hometown influenced your design style at all?
FS: No not really. Malta is very rich in architecture and history and there is a very strong baroque setting. I think decorative and fine arts are part of our culture for such a tiny, tiny state in Europe, so being around that helped, but I don't think it was a big influence on what I was doing. I just had a great passion for homes and furniture from a little child, which had nothing to do with where I grew up. It was just something that was inherent to what attracted me as a little boy from the age of five. I was already copying plans of Frank Lloyd Wright, books I would find at the library. I loved modernist architecture as a kid, I just think it was something natural for me.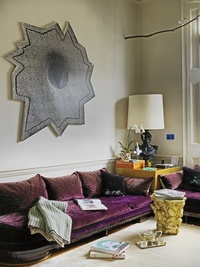 CK: When you're designing a new piece of furniture, is it a matter of intuition relating to the space it will inhabit?
FS: My designing is influenced by a lot of things, including by one of my main hobbies, which is contemporary art. When I decorate homes, a lot of the ladies I work for become my muses because our rapport inspires me. I've known a few people in my life who were great influences because they're people who have got a lot of style, who, when they commission me, entice me to create new things within the perimeter of their own brief, so from designing a piece of furniture for them, I invariably end up designing a whole body of new work.
CK: How many pieces do you produce a year?
FS: I have no idea, apparently it's really a lot. Last week I finished a new apartment, and in it there are about 70 pieces of my work, and that's just one project, so the numbers are growing, but also I'm reusing designs I've done on other projects over the last 10 years, so I reuse pieces I think are appropriate or I may change the colour or the finish or the size.
CK: I read that you saw your apartment building, Albany, as a child and now you live in it. That's quite an amazing story.
FS: I've lived in Albany now for almost 10 years and I first knew about the building because when I was about nine years old, I discovered David Hicks. His aesthetic was very influential to me and so I was sucking up all the images he was doing in books. I loved his apartment in London and then as I grew older, I realised where it was, and then nearly 11 years ago, I was told there would be an apartment coming up and I was lucky enough to get it, so in a funny way fate had meant me to be here.
CK: And has it changed much?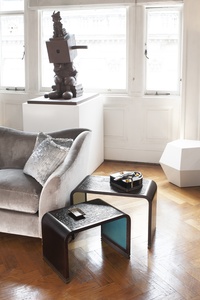 FS: No, because Albany was the first apartment building in London. It was built by the Duke of Marlborough and is Grade 1 listed, an historical building, so each apartment, – which is called a set because it's a set of rooms basically – is very protected. What was interesting for me is I'm living in a very beautiful, Georgian apartment in a very central location in London and my aesthetic had to fit around those perimeters. I didn't find it at all challenging; I found it actually really beautiful to work with.
I'm very attuned – when I'm doing a home – to the architecture, and I'm fortunate because I love Georgian architecture because it has a homely feel to it. My home in London is probably the least decorated of homes I've ever done because of its Grade 1 listing, so it's really a placement, an editing of furniture and art that has a meaning for me.
CK: You were accepted into architecture school but you didn't go. Do you ever wonder about what might have been?
FS: I don't want to wonder about what might have been because it never happened. I think I would have been terribly bored with just being an architect. Hadid always said to me, God rest her soul, that I would have made a good architect. In those days I couldn't see architecture being the right way. I discussed with Zaha in the last few years, about how she pushed boundaries of what architecture was, and she ended up by being able to design furniture, jewellery, shoes.
I think when you're a highly creative person you find one specific area. In her case it was architecture, in my case: interiors. You start building around that, so you add modules of design around your life. Next year, I'm going to do accessories. I'm excited because if people can't afford to buy a coffee table, they can buy a vase or a picture frame. I want to be more accessible, still retaining the luxury of my work but then reducing it into small scale objects.
CK: Can you tell us about your favourite pieces?
FS: Of my own work, one of my favourite pieces is the Anita banquette, which is also my best selling piece of furniture. It is an oval stool covered in kidassia fur that comes in lots of colours, which I originally designed for a penthouse in St Moritz. When I introduced it into a collection, it became very, very popular, even a lot of the fashion magazines around the world featured it and I think that's why it had such a big following. One of the favourite pieces of design I own is a green satin Baroque chair by Emilio Terry for Carlos de Beistegui.
CK: Are there any other key pieces in your home you could tell us about?
FS: Well it's such a collection that everything has a meaning, sometimes it's a prototype, something we bought many years ago that has sentimental value. Today, we have things that may be trophies now, but when we were collecting in the early years, we were one of a few people collecting these kind of things. The markets have grown and also these international art and design fairs have made people very aware. We've accumulated some very special things but everything has a story to it. That's the beauty of collecting. For us our homes are just the story of our lives.