Dubai used to be easy to define: a bleak, hot, giant sandpit. At best, a re-fuelling stop on the way to and from Europe.
But in the 70s, the ruling Al Maktoum family instigated Dubai's relentless metamorphosis from an insignificant fishing village to one of the most astounding places on the planet.
Unsurprisingly, the city that invented seven-star hotels and shopping malls "so large you can feel the curvature of the earth", as my guide Alex puts it, is locked in a constant race to be the biggest, brightest and best. Locals proudly point out the world's tallest man-made structure (the 828m-high, cloud-piercing Burj Khalifa), the biggest shopping centre (Dubai Mall, which comes complete with an ice rink and aquarium), the biggest flower garden, the largest fountains and more luxury cars than should be allowed in any one place. Even the police drive Ferrari, Lamborghini and Aston Martins.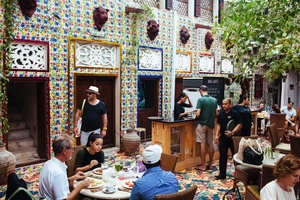 Big is definitely good here. But for all that, the second largest of the seven emirates is still easy to define: it's basically one long strip that runs from Sharjah in the north, south to Abu Dhabi, wrapped in a honeycomb of highways that ferry the never-ending traffic. Such is the pace of change that new roads and buildings can, and do, spring up virtually overnight.
When you tire of the glitz, follow the Creek, a waterway that splices Old Dubai in two. There's no physical divide between Old and New Dubai, but the absence of blingy skyscrapers will tell you this is the 'real' Dubai, home to an army of workers from the sub-continent busy cooking up a taste of home. Here, you'll find the best curries, falafel and Arabic sweets.
Across town, Media City is the postcode of choice for Dubai's creative community. Established in 2000, this self-contained tax-haven is home to global and local design, publishing, advertising, production and event management companies, including the BBC, Sony Pictures and Thomson Reuters.
"This was once little more than a vast, empty desert, and the only thing going for it was oil," says Alex. "Now Dubai has one of the best creative hubs in the world. It's more than a one-trick pony…"
DUBAI INSIDER'S GUIDE
PLACES
Burj Khalifa: If it was good enough for Tom Cruise… the view from the top of the world's tallest building is, literally, breathtaking. It might cost a bit more, but a ride to the newly opened observation deck on the 148th level is well worth the ticket price. 
Jumeirah Mosque: It's one of the most photographed buildings in Dubai and the only mosque open to the public. Tours give an insight into Emirati culture and religion in a relaxed atmosphere. 
Sheikh Mohamed Centre for Cultural Understanding: Enjoy a traditional Emirati breakfast or lunch in the Al Bastakiya trading village in the Al Fahidi Historic District, one of the oldest neighbourhoods in Dubai. While breaking khameer, the delicious local bread, hosts will share their knowledge on Emirati customs, traditions and history.
Jumeirah Creekside Hotel: It's one of Dubai's coolest five-star hotels, but you don't have to stay there to join the hands-on daily cooking class at Blue Flame, its fine dining restaurant, where sous chef Sufyan will help you cook the perfect sea bass or steak while you sip a glass or two of bubbles.
Dubai Desert Conservation Reserve: Want to see what Dubai was like before the discovery of oil beneath its sand? A morning drive over the dunes is a magical way to start the day and you might even spot the odd camel silently padding across the hot sand.
EAT & DRINK
Tom & Serg: One of Dubai's most popular home-grown cafés serves some of the best coffee this side of the Vatican. Don't go past the Baghdad Scramble which includes spicy sausage and minted labneh (yoghurt cheese). 
Al Mallah: You can't visit Dubai and not try a shawarma from one of the old Dubai's favourite go-to places. It's cheap and basic but the food at this institution, located on the fancifully named 2nd of December street, is delicious.  
Qbara: This stylish restaurant and lounge bar lives up to the meaning of its name – 'large and generous'. The Middle East-meets-ultra-contemporary interior is courtesy of Tokyo-based interior designer Noriyoshi Muramatsu. Recently named Time Out Dubai's Best MENA (Middle East-North Africa) Restaurant 2015, the cuisine is a salute to Dubai's multi-cultural populace.
Arabian Tea House: Tucked inside the walls of Bastakiya, Dubai's oldest neighbourhood, the Arabian Tea House (formerly the Basta Art Café) is located in the courtyard of a former 19th century wind tower and is modelled on ancient Arabic tea houses.  
GALLERIES & SHOPS
Alserkal Avenue: Located within the industrial quarter of Al Quoz in Dubai, Alserkal Avenue is home to around 20 creative and art spaces and showcases some of the Gulf's best local and regional artists. 
The Golden Pen: One of Dubai's well-kept secrets, Amir is a craftsman who specialises in Arabic calligraphy and engraving, including jewellery. Ask nicely and Amir will write your name in Arabic calligraphy. 
ArtSpace Dubai: This sleek, white-washed hub is dedicated to showcasing modern and contemporary Middle Eastern and Iranian art, including pieces by Yosef Ahmad, Mohammed Taman and Hussein Madi.
Karama Centre: Shop with the locals at this jumble of small stores in Old Dubai. You'll have to dig deep, but there are unique finds from t-shirts and jewellery to fun household items you never knew you needed. Most stores open from 10am-1.30pm and then again from 4-11pm.