Partner Event: ECC Milan Report launch
Partner Event: ECC Milan Report launch – 01 July 2015
Urbis attended the launch of ECC's Milan Report, in which Mike Thorburn and his team collate their finds from the Milan Furniture Fair 2015.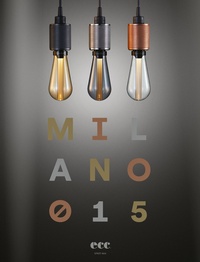 ECC's showroom was decorated with highly curated pieces sourced from Milan, and buzzing with activity from enthusiastic patrons, architects and other industry professionals. Along with the renowned ECC hospitality, we were impressed by the Moooi carpets designed by Marcel Wanders – five of which hung from the showroom ceiling, providing colourful and dramatic subdivisions within the space. Moooi is now using Chromojet printing technology which allows purchasers to customise their rugs to better suit their living and working spaces.
Also high on our list were Tom Dixon's Melt Pendants. The "distorted light globe in a molten-lava copper, ice-cold silver and sophisticated finishes" is a true testament to Dixon's craft and imaginative approach to lighting design.
The full report comprises 70 pages of treasures hand-picked from Italy's design capital and now available in New Zealand. The ECC Milan Report can be found in-store or downloaded here.