Favourite objects: Kristine Crabb
Everyone needs a sanctuary after personal calamity.
In Kristine Crabb's case, a breakup 18 months ago demanded an exit from her Kingsland home: a "hard-out do-up'' with a history as an ad-hoc punk venue.
Maybe it was her urgent need for a pleasant space for her and her three children, but she lucked upon a Ponsonby villa that transported her back to her own happy childhood and the wonderful nana who lived just over the fence.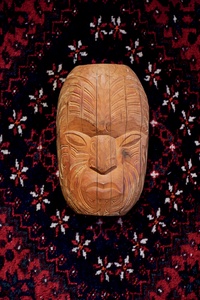 Nana Crabb was unique, possibly the one true bohemian in Matamata; she was a singer, motorcyclist, chain smoker, prohibitionist and pilot who crossed the Tasman only months after Jean Batten did. Outsiders who didn't quite mesh with your standard rural mores flocked to her, including her granddaughter, who would jump the fence to pick flowers and chase the peacocks as she danced up to her front door for a singalong.
It all came flooding back the moment she walked past the gate of her new home.
"It was the flowers – it was summer when I first saw this house – and there were flowers everywhere. I thought of Nana Crabb straight away. Then I saw the garden out the back; it was all wilderness and blooming, with bugs and native birds – I just loved it so much instantly.''
Inside she found a home stubbornly shunning the trappings of contemporary design. "That's my landlord – I love how he's kept so much of the original form; so many of the houses around here have been renovated and it's rare to find anywhere that doesn't have an enormous, shiny island in the middle of the kitchen. He's a wood man so the kitchen is full of kauri; the cupboards, the benches, the shelves, the table – it's all kauri. It's warm, comforting and chilled.
"So this is my haven now; it's near town but feels like the country. And that Victorian architecture: I feel a real connection between it and my own clothes designs. They're minimal, modern and feminine; and I see a lot of femininity in this house – it's in the classic detailing and the peace.
"I spend a lot of time in my kitchen and I love hosting friends when I'm not too busy. That's something I got from Nana Crabb too, that sense of singularity – doing what you want and what you think is right, and always remembering that family and friends come first.''