Frankfurt is a compact city that's been dubbed 'the smallest metropolis in the world'. It found its feet in the post-war period of the 1940s, in part taking over as a business hub in place of an isolated Berlin. In the 1980s and with the creation of the Messe (trade halls), it became a destination for international business people, hosting more than 100 trade fairs per year.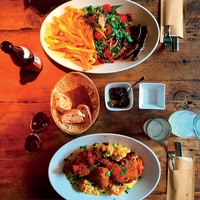 The population of Frankfurt, at just 670,000, appears to double during weekdays as the city fills with fair-goers attending everything from the very popular Book Fair and the Auto Show through to highly specialised events like Christmasworld and Paperworld. So, how is a city affected and shaped by a large, itinerant population with incredibly specialised career interests?
It is evident that Frankfurt's arts and culture sectors are starting to thrive around this. The city is gaining a reputation as Berlin's 'little brother'. This is most evident in Bahnofsviertel, the area surrounding the central train station (Main Hauptbahnhof – the busiest in Germany). This red-light district is following in the footsteps of many such zones around the globe and becoming known instead as a hub for the arts.
It's early days yet, and the area still has plenty of grit but according to locals, rental prices are on the rise and there are signs of gentrification in the form of small stylish cafes, bars and their corresponding patrons. In Banhofsviertel, the place to be for coffee by day or wine by night is Bar Plank, a modest corner watering hole which is always buzzing with photographers, designers and paint-splattered artists.
Due to easy access to the train station, most of the big hotels are located around here too. One such establishment is Roomers Hotel, a luxurious boutique hotel in the outskirts of Bahnofsviertel. From there it is an easy walk to the Museumsufer, where 26 museums are located in close walking distance on the southern banks of the Main River.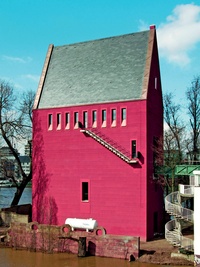 The Städel has a wonderful collection of modern art. Another highly recommended spot is the Museum Angewandte Kunst, or Museum for Applied Arts, which is housed in an attractive Richard Meier-designed building.
Many of Frankfurt's original buildings were destroyed in the bombing raids of 1944, when more than 1500 tons of explosives rained on the city. Some landmark buildings, such as the grand St Paul's Church, were rebuilt, while many others were replaced by modern structures, many in the Bauhaus style, or re-imagined in a historical aesthetic. As such, the city centre is a mish-mash of old and new which, when combined with the city's multi-ethnic population, make for an energetic modern space.
It takes around 15 minutes on the S-bahn from the airport to arrive at the Hauptbahnhof, and from there you can transfer to other lines or take the trams that traverse the city's streets. You can also hire a bike from locations all over this flat city (or walk, there is plenty to see on the way). Locals tend to choose bikes over cars and on a sunny day, you can join them on a pleasant ride along the banks of the Main, or head inland to the MyZeil shopping centre for some retail therapy. While small in comparison to other major European centres, Frankfurt is, without a doubt, a city to watch.
Frankfurt Insider's Guide
Fashion/Homewares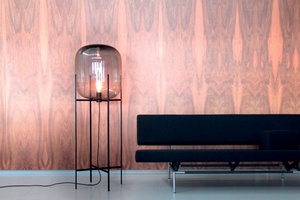 Studio Sebastian Herkner: Young design star, Sebastian Herkner creates intuitive, beautiful furniture and lighting for design companies. He works out of a busy studio in Offenbach, on the outskirts of Frankfurt, which is also worth a look as an area with a deep handcrafting history. 
The Listener: Part of MA*, a new retail building adjacent to the flashy MyZeil shopping centre, it spans two floors and stocks a range of hand-picked, high-end products, including clothing (especially denim), shoes, scents and bags. Everything in store is chosen for its timelessness and longevity. The store is beautifully laid out, with a café/bar inside, and invites a lengthy browse and probably several purchases. 
2nd Home: This concept store in Nordend is located in an old apartment, which is fully furnished in purchasable items for the home. As a whole room can be procured in one hit, 2nd Home is always changing and full of new ideas in interior design. 
Eat & Drink
Roomers Bar: Even if you're not staying at Roomers Hotel, the lobby bar is an exquisite spot for an intimate drink. The bartenders are passionate about their menu and will recommend a cocktail to hit the spot. The décor is luxurious, with floor-to-ceiling padded silk booths, a lacquered circular bar in the centre of the room with velvety stools, and chandeliers dripping in wax, lending discreetly dim lighting.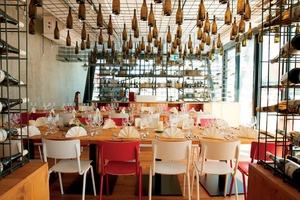 Vai Vai: Located on the ground floor of an unassuming office building, Vai Vai is an industrial, urban-style Italian restaurant and lounge bar, with an open kitchen and a vibrant, happening atmosphere. The green marble bar, with factory lamps overhead and a criss-cross of scaffolding for shelving, is an arresting centrepiece to the bustling space. 
Walon & Rosetti: A small but perfectly formed menu, which changes often, makes Walon & Rosetti an excellent spot for dinner, but what makes it even more special is the fact you can stay afterwards and experience top-notch cocktails at the bar. An all-rounder for a night out. 
Things to do
Schirn Kunsthalle: Exhibitions here are chosen for their interactive qualities, so there is often art on display that you wouldn't see in a typical gallery. The café has recently been taken over by renowned chef Badia Ouahi, so the gallery is well catered for a post art-gazing meal. 
Portikus Gallery: This tall but narrow, brick-red building houses an exhibition space and reading room and exhibits only young and up-and-coming artists, often current or past students of the Stadelschule. Perched on a very small island on the Main, it can be accessed off a traffic and foot bridge over the river. The building itself is a drawcard, with its picture-book dimensions. 
Camille Khouri travelled to Frankfurt courtesy of Messe Frankfurt and Messe Reps and Travel.