Design people: Hannah Webster
A love letter to nature, written with a 0.1 fine black pen. That's the ethos behind Hannah Webster's meticulously hand-drawn illustrations of the green bits of New Zealand.
The Wellington illustrator and textile designer uses our native forests to explore her relationship with the world around her.
"I'm interested in how people experience space," says the 25-year-old, who likens being in a forest to swimming. "It's that feeling of being immersed and sheltered in an underwater space, where the canopy echoes the surface of the water and there's no discernible boundary to prevent you from entering or slipping out again."
Webster, who graduated with a Masters in design from Massey University in mid-2015, admits she's been obsessed with green spaces ever since she learned how to grasp a pencil between her thumb and forefinger.
"I like the complexity of drawing a tree: it's so different from sketching something solid like a house, where it's easy to understand the basic structure and design."
She's also a fan of the subtlety of New Zealand's forests which, she says, aren't loud or bold: "There's a distinct beauty in the small details and subtle hues".
Her website, Forest Drawn, showcases Webster's nature illustrations that hone in on the gnarled roots of a hundred-year-old kauri tree, a solitary stand of pine trees and shafts of sunlight on the forest floor, filtered through layers of trees thick with tui and kaka.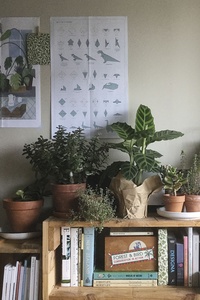 So entranced with capturing nature is Webster that she recently gave up a full-time design job to spend her days immersed in, variously, the Capital's Otari-Wilton's Bush, the Brooklyn hills and Zealandia, a protected area in Karori where the biodiversity of 225ha of forest is gradually being restored.
"I try to start my day with a run through the forest so that I can identify spots with good light, colour and smaller spaces within larger spaces, which offer great detail and layers."
Later Webster will return with a sketchbook and camera. And then it's back to the Brooklyn home she shares with her mother to painstakingly recreate the black-and-white details on paper.
Eventually she'd like to introduce more colour into her work, although she admits it's harder to get the shading and tone right with coloured pencils. She'd also like to branch out into screen-printing her designs onto fabric, eventually for use in the fashion industry. It's a throwback to her degree, where she majored in textile design.
"Screen-printing allows me to add a tactile element to my drawings and is great for layering colour and texture too."
Webster is inspired by American illustrator Pat Perry who, she says, manages to cram immense detail into one drawing, but at the same time leave enough breathing space to balance his illustrations.
Hers is an unlikely career for someone whose family tree is peopled by scientists. Webster's mother worked in cytogenetics, her younger siblings are studying veterinary science and psychology and her father is a geologist whose job ping-ponged the family around the world, including to Canada, Malaysia and Australia.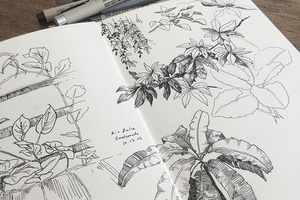 Drawing, says Webster, was a way to connect with her ever changing environment. "Capturing the new scenery and people around me helped ground me in the new space, wherever that happened to be."
The family moved back to Wellington in 2005 and Webster says she could easily have joined the scientific fold. "I love both science and art and even though art eventually won out, I plan to study botany so that I can better understand the plants I draw."
She was introduced to the world of textile design while at Wellington Girls College when her art teacher suggested she'd be good at it."I had to ask what textile design was," she laughs.
After graduating from Massey University, Webster segued into teaching weaving and textiles at her alma mater. Work at Minerva, a Cuba Street textile bookshop, and design work at artisanal peanut butter makers Fix & Fogg, rounded off her part-time jobs.
Eventually, though, Webster found her way back to full-time drawing and textile design. A recent collaboration with Wellington furniture makers The River has seen her fine pencil drawings framed with recycled oak. "Wellington has such a collaborative creative community and I'm keen to work with those whose artistic sensibilities mesh with mine."