As a young child, designer Francis Sultana borrowed architecture books from the public library in his hometown, the Maltese island of Gozo, and pored over them, copying designs he particularly liked into his notebook. As a design-obsessed nine-year-old, he came across an article on renowned designer David Hicks, who had his home in Albany, London.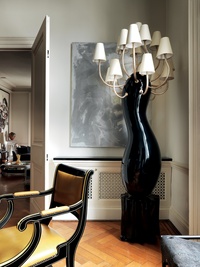 Albany was London's first apartment building, built in 1770 close to Piccadilly and the Royal Academy of Arts, and was converted into sets of rooms for bachelors in 1802. A fan of Hicks' work, Sultana loved the idea of living in this historic, Georgian building and making one of the apartments – or sets, as they are traditionally called – his own. 
Sultana travelled to London as a 19-year-old and, with a folder of drawings under his arm, wandered into designer David Gill's gallery. He spoke with Gill and showed him his drawings, and the two very quickly realised they had a similar eye and a shared knowledge of the history of furniture design.
The following year, Sultana gave up his spot at architecture school, where he had been accepted, and started working for Gill. Now for the past 11 years, seemingly through a mixture of dedication and fate, the two designers have lived together at Albany, in this home filled with furniture and art. 
"When I met David, it was about meeting a man who knew a lot about the decorative arts, so we just clicked," says Sultana. "And he was talking to me about things I knew of but didn't know enough about. From the beginning, I didn't want to work in a gallery, but when I did work there, I realised that from a different journey I would learn a different aesthetic. I would be amongst people I wanted to be with, and that would be very productive for me."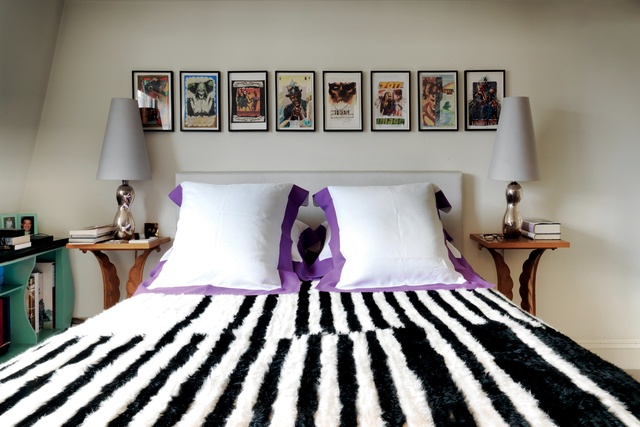 Sultana has worked and been friends with some big names in design and architecture, including the late Zaha Hadid, who was and still is a key influence (she designed the curved black shelves that jut from the walls in the living room), and also Mattia Bonetti, whom he first met at 19 years old and has been on what he calls a 'design journey' with ever since.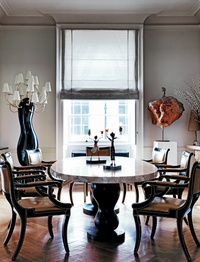 Back to his set in Albany, how did he tackle the decoration of a space with such a rich history and which he had coveted for so many years? For Sultana, it was about fitting his aesthetic within the perimeters of the Georgian architecture.
"When I'm doing a home for myself or someone else, I am true to the architecture, and I am very fortunate because I love Georgian architecture. My home in London is probably the least decorated of homes I have ever done because of this. It is really a placement, an editing of furniture and art that has a meaning for me and I feel secure being around. It is a place where I need to have cosiness in my life, in the middle of the big city, so I have a lot of sentimental things in this apartment."
One of Sultana's favourite pieces of design is a chair by Emilio Terri for Carlos de Beistegui. The baroque chair in green satin is situated in front of the fireplace in Sultana and Gill's set, next to their circular, mirrored Garouste & Bonetti coffee table. 
"For me this is a very important historical chair, made in the 1920s, with a great past and providence. There have been certain chairs in history that I have always wanted to own; this is one of them," says Sultana.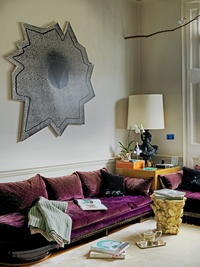 Looking around the apartment, a good deal of the furniture has unexpected sculptural detailing, such as animalistic or plant-like features. In the bathroom, the edges of the Oriel Harwood side table appear to be dripping, and the frame of the mirror, also by Harwood, is reminiscent of palm fronds. A tree-like, multi-lamped Seville torchère by Garouste & Bonetti graces one corner of the dining room. Sultana says he is drawn to the unexpected and knows with his eye what will work together in a room.
"Our home is such a collection of things that everything has a meaning as to why it has arrived, what it means to us. Sometimes it's a prototype; some we bought many years ago and now have sentimental value. In the early years, we were one of a few people collecting these things, and we collected what our eye was attracted to. Everything has a story to it, why we have it, how we got it. That's the beauty of collecting. For us, our homes are just the story of our lives and what the things mean to us." 
For an extended interview, click here.