Future Islands opens in Venice
The Venice Architecture Biennale is the premier event on the global architecture calendar – it is a showcase of quality of thought, ideas and innovation, with 62 countries responding to a theme set down by this year's Biennale curator Alejandro Aravena. With Future Islands, an exhibition developed by a team led by curator Charles Walker (featured in Urbis 91) and associate curator Kathy Waghorn, New Zealand is, for the second time ever, taking its place on this international stage.
On 26/27 May, the New Zealand Ambassador to Italy Patrick Rata and New Zealand Consul-General in Milan Ann Clifford inaugurated the exhibition with a series of events that included waiata and haka – watched with interest not just by the crowd of 200 that thronged Palazzo Bollani's plaza but also by the occupants of the apartments around the square and tourists peering through narrow alleys.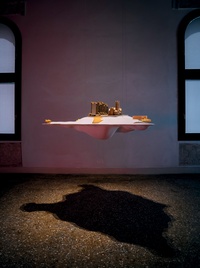 Already, the exhibition is creating a "real buzz" in Venice, says Tony van Raat, New Zealand's exhibition commissioner. "The creative directors set out to design a beautiful and engaging exhibition and judging from the comments of the people who have visited, they have succeeded brilliantly."
Van Raat has clear ideas also about the importance of New Zealand's participation. "If we want to test our architectural thinking, contribute to the international debate about architectural issues, and raise awareness of New Zealand's design capabilities, the Biennale is the place to do it." For Walker, the exhibition is a means to convey the varied conditions of architecture in New Zealand. "Islands have always been seen as sites of possibility. They hold the promise of alternative ways of living, and that prospect is now more attractive than ever."
The exhibition, which includes video projection and an audio work, which plays in the stairwell approach to the displays, is installed in a large, light-filled room in the upper level of Bollani. It is highly atmospheric. After ascending to the space, visitors are greeted by an archipelago of 22 floating 'islands' which support scores of models of New Zealand architectural projects. It is a representation of the "diversity of contemporary New Zealand architecture, and of modern New Zealand society," Walker says. "Architects should be optimistic that they can make a difference. They are well equipped to offer alternative solutions to contemporary economic and environmental challenges."
New Zealand Rooms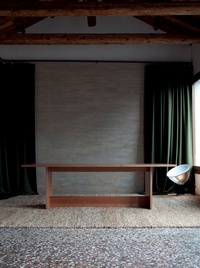 Te Koha – the New Zealand Room and Te Matau – the Reading Room are two support spaces at Palazzo Bollani, New Zealand's Venice Architecture Biennale venue this year. During the six months of the Biennale, Te Koha will host architecture discussions and debates and events organised by event patrons, partners and supporters, while Te Matau is a small library for visitors to extend their knowledge of New Zealand's architecture and creative industries. 
Rufus Knight, designer of both rooms, says his approach was "very straightforward" – put simply, he wanted his work to evoke ideas about New Zealand's landscapes. Both rooms are elegantly designed in a way that contrasts with the powerful and ancient textures of heavy timber and terrazzo within the Renaissance palazzo. Knight says the aim throughout was to showcase New Zealand design in an "understated, welcoming way. I've worked with a palette that I feel is reminiscent of the tones found in the New Zealand landscape but also contemporary." 
Beyond beauty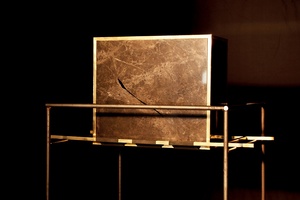 Don't confuse the sleek elegance of these deconstructed plinths as merely an exercise on beauty. The makers of these and eight other similar pieces are AUT University's top Spatial Design students who have had the opportunity to develop a piece of work for the Time, Space, Existence exhibition at the 2016 Venice Architecture Biennale. 
Rather than create an architectural model that presented a beautiful building, the students' work stems from highly political questions. "The guts of the concept are that we are living in an unprecedented time of chaos in respect to human settlement, ecological disasters, refugee populations and mass migration," says student Emily O'Hara, who has been involved in the logistics of the exhibition as well as being one of the 10 chosen.  "How do we talk about the issue of all these people with nowhere to live?" she says. 
A metal frame provided a starting point for the students, playing on the idea of a plinth that would normally hold an architectural model for display. "The question was then how to turn these frames into a space in themselves, instead of a resting place for a physical manifestation," says O'Hara.  
http://www.labiennale.org/en/architecture/