Fashion designer Kayla Jurlina releases Homage, a jewellery collection via a delicious collaboration with chef Al Brown.
Kayla Jurlina's curated jewellery line is called Homage and it really is a homage to the strong, glamorous women in her life. "When I think of earrings I think of my mum; as a child I remember her wearing big clumpy earrings to pack my lunch in the morning," Kayla told me over the phone the evening before the black tie launch of her products.
Twenty four-year-old Kayla has had a meteoric career in fashion and design. She started as an intern at Treslie Cooper seven years ago and worked her way up to designing the diffusion line Coop for the Auckland fashion stalwart.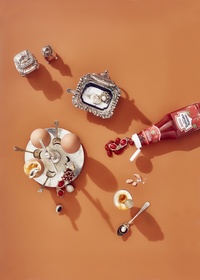 Her latest venture Homage came about almost by chance. Kayla's mother in law Judith Slane owned a fashion business in the 1980s called, appropriately enough for the styles of the time, Glitz.
Kayla told me "she was getting earrings from the south of France, from America and Australia. At the time they were new, but now thirty years later we'd class them as vintage."
These treasures were languishing in boxes under Judith's house for years until Kayla spied them at a jumble sale and immediately panicked that they were going to be sold off one by one.
She says she thought "there's something about them, I feel like I can do something with them. For a couple of months, I tried to wear 300 pairs of earrings. I wanted to pay homage to her for giving them to me. I felt that they had life still left to live."
The imagery to showcase the jewellery shows the pieces shot with retro food and place settings. Kayla says "My family is Croatian so all of our family time is around the dinner table, to me that is just normal. I thought it would be a fun pop art way of showing the pieces. I am in a really experimental phase at the moment. Why does fashion need to be so serious?"
Her collaboration with Al Brown for the launch event at Gus Fisher Gallery is a natural extension of her love of family, as Al's rustic food style reminds her of her father and his passion for fishing and barbeques.
In the future Kayla would love to collaborate with other brands and bring her fresh, quirky eye to the New Zealand food and design scene. She is planning on an antiques collection, and a natural progression from earrings would be carefully curated vintage accessories. Expect exciting things from this young designer.