A new online store for beautiful, handcrafted ceramics by local artisans has opened its virtual doors. Kaolin presents a carefully edited collection of ceramics for the home, with each item in the collection created to be used and enjoyed. The pieces on offer range from delicate bone china side plates to chunky textured beer mugs. We caught up with Kate McIntrye, who created the store with fellow ceramicist Rachel Carter.
Urbis: What does Kaolin mean and what does it seek to do?
Kate: We chose the name Kaolin as it is quite simply a type of clay. It is associated with quality ceramics as it is the main ingredient in porcelain. Clay is the starting point for all ceramics, and is what ultimately brings together the group of makers we work with.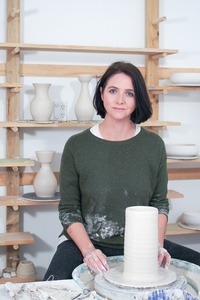 Kaolin seeks to create a platform that celebrates New Zealand makers, sharing their work and their stories in the hope that we can encourage the use of beautiful, functional everyday objects. We believe in supporting local artists, celebrating craftsmanship and elevating the handmade.
Urbis: Who are the makers and are they hobbyists or is ceramics their profession?
Kate: Kaolin was created by Rachel Carter and myself. We are both ceramicists and we have been developing our own practices for the past 10 years. We have chosen a range of makers, with the simple criteria that their work is handmade in New Zealand, that their work is of a high quality and that it is beautiful and functional to use. We have on board potters like Peter Collis, who has been practising his craft for over thirty years.
Most of our artists have formal training in ceramics, such as Duncan Shearer and Renee Boyd. Others have come from other creative backgrounds, such as Emily Siddell who is a renowned glass artist. Some also have industry experience, such as Tim Grocott, who learnt invaluable skills working alongside an ex Crown Lynn master mould-maker.
Urbis: Are there any similarities between their work?
Kate: It was important to us to choose work that is complementary but give each maker the chance to own their own space. Our makers may use similar techniques, but the finished products are uniquely theirs which is what is so special about handmade ceramics. We're fascinated by the variation of techniques used and by the form and colour that can be achieved.
We celebrate the trace of the maker's hand, and the unique characteristics of each piece. We have selected work in a range of aesthetic styles, from organic wood-fired pottery to crisp porcelain pieces. Our products range from everyday objects, like a simple coffee cup, to one of a kind pieces such as platters, that can be used for a special gathering.
Urbis: What do you think handmade objects bring to the realm of food and drink?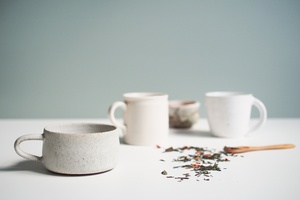 Kate: When we eat all our senses are engaged. The tactile nature of the cup resting in your hand. The colour and texture of the glaze making the food appear more appetising. We love that a well crafted, functional item can heighten the simple everyday experience of eating meal. This is why there has been a resurgence in restaurants wanting to use custom ceramics, it allows the chef to bring their vision to life and elevate their craft.