Cloud House by McBride Charles Ryan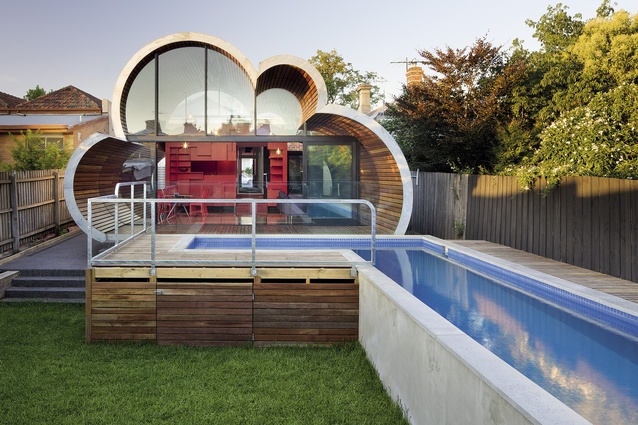 Deep in Melbourne's North Fitzroy is a conversion known as the Cloud House. Designed by McBride Charles Ryan, the façade to the street is quiet, unassuming and respectful of the local historical heritage. Out the back, however, all heaven breaks loose.
A simple platform of kitchen, dining and living has been wrapped with an extruded undulating wall that – in cross-section at least – resembles a cloud. Hence the nickname. The curving walls – like the floor – are clad in strips of timber and the three- dimensional form suggests an inverted skate bowl. Inside and outside are mediated by a carefully detailed glass wall that all but disappears. But is this a cloud? It feels more like a caricature of a cloud, a diagram or a child's drawing (or the kind of drawing of a cloud you might find on the ceiling of a child's bedroom).
Nothing wrong with this. Fifty years ago, Robert Venturi coined the architectural term "duck" to identify buildings that through their form explicitly reference something else, usually the mundane. So this could be a cloud and it might be a duck, but is it hot? Definitely. Its cross-section alone is evidence of its determination and its commitment to an idea.
The Electric Kool-Aid Kandy-Koloured Kitchen also burns red-hot. This house has its feet on the ground and its butt in the clouds. It is architecture that is two parts serious, one part playful with a twist of wild. Add ice and stir.