Hot House: Hidden Pavilion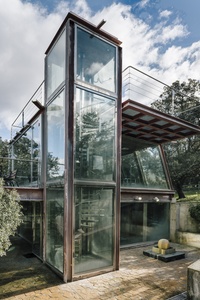 Although the materials and abstract forms of this 70m2 meditation space on the outskirts of Madrid seem entirely unnatural in its location, a closer look reveals a delicate and deeper symbiosis. To begin with, its external structure is dominated by steel that has been left to rust. It's muddy in colour, patchy with flecks of the decaying metal hanging from its beams.
According to its architect, the Spanish academic José Luis Penelas, the choice of material is in keeping with its location: an old forest traversed by a Roman road that used to connect two ancient settlements. "The design ages with nature, changing through the years, achieving a new texture and feel, like the ageing bark of the trees."
Holm oaks, ash and quaking aspens are very common here in the Las Rozas forest. Their leaves are lightweight and thin, enabling plenty of light to filter through and enough movement to make the rays that drip into the space changeable and swift. Although the house was built in a glade, there were several trees on site and the team made a point not to cut any of them down and to leave gaps on the floors of the balconies and decks on the upper levels.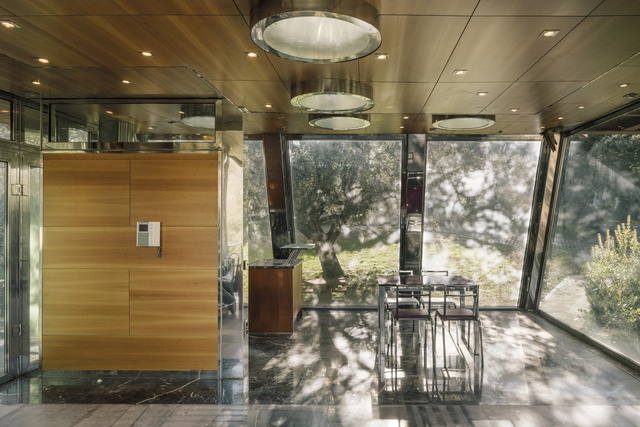 "We wanted to respect all the trees," says Penelas, "and that meant leaving gaps for them in the building and inclining the upper surface to allow the trees to continue growing and thriving. Once the trees grow, we see the house as becoming part of the foliage."
Its orientation means that the vegetation and the cantilevers will provide shade for the highly transparent house during the summer months and shelter from the wind during the winter. There is triple glazing on all the windows to provide extra thermal insulation and energy savings. There are several cylindrical lightwells that are hoped to bypass the current and future canopy and funnel light inside.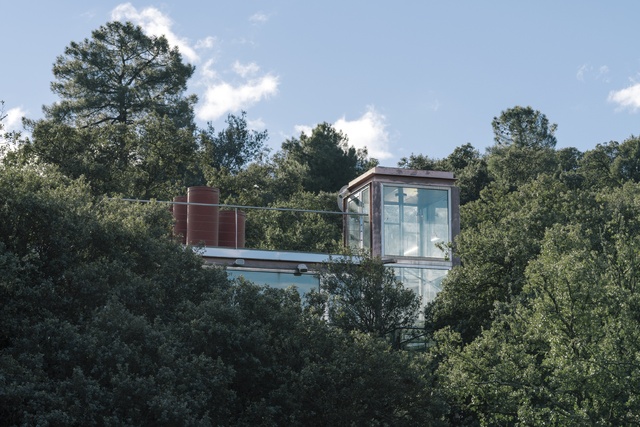 There is, however, another more dramatic connection between this space and the nature that surrounds it. The Hidden Pavilion borders the Guadarrama river and a part of it cantilevers over a small waterfall which flows all year round. The humidity that arises from the falling water cools the structure down during the summer months. Penelas: "That murmuring sound of water streaming below is at once the disconnection of the building and the ground, whilst connecting the host perceptually with the sounds of nature."
And yes, it is that 'disconnection' Penelas refers to, that disjointed feel of a blatantly man-made structure – in fairly unnatural materials – residing within and with nature that gives this house its delightful tension.