Although not a house… the Solar Egg is literally smoking hot.

Each of the panels on this tiny sauna in the northernmost town in Sweden reflects snippets of the picturesque, Arctic landscape that surrounds it. With periods of the year when the sun never sets and others when it never rises for weeks, the fragmented reflection is a surreal mix of snow, mountains, sky, sparse foliage and most importantly… the town of Kiruna and its adjacent iron ore mine.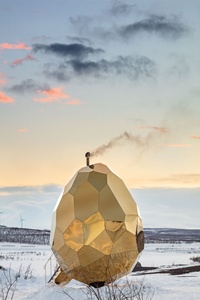 The last two are significant because in about a year's time, the town – with a population of around 23,000 inhabitants – is scheduled to start moving, brick by brick, three kilometres to the east. Over 3,000 homes, schools, roads, hospitals and the infrastructure that supports them are to be either dismantled and reconstructed, demolished, or re-imagined to accommodate the expanding mine. There is no animosity at play here. According to reports, the majority of those affected realise that without the mine, Kiruna wouldn't exist and the move is being done stoically and with a sense of communal purpose.
Nonetheless, city planners are employing all manner of social anthropologists, psychologists and the like to assist Kiruna's inhabitants.  Interestingly, artists are among the professionals engaged in this mammoth exercise. One of them is installation duo Bigert & Bergström, the makers of this tiny space who say they were commissioned to make "an interactive art project that could also be a platform for discussions around this turning point in the history of Kiruna," Mats Bigert told Urbis.
The temporary and travelling egg-shaped sauna is covered in stainless steel mirrors with titanium, gold-colour coating. It is only five metres tall and accommodates a handful of punters. Its interior is made from pine and aspen, and the sculptural oven in the centre has been webbed from local iron and stones.
The Solar Egg was crafted as a gathering place, a warm cocoon to escape winters that can drop to around -15°C. "It would be great if people do get together [here] and chat with someone they never talked to before, which is often the case in public saunas," continued Bigert. "What we also like is that when stripped naked, we're somehow liberated from our civilian costume… in the sauna we are all alike so you have to talk to a person in order to get an idea of who he or she might be."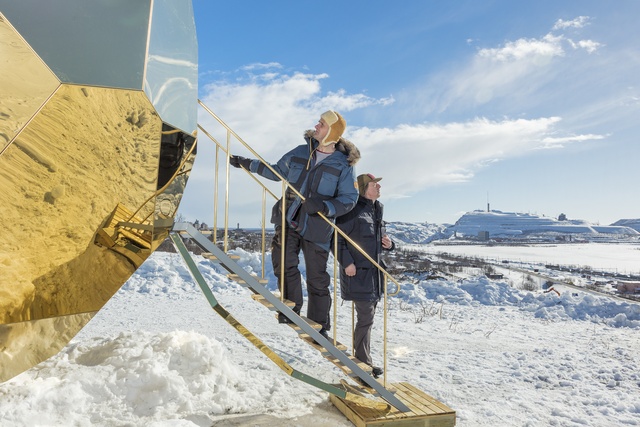 Much like many of Bigert & Bergström's previous work, the Solar Egg has a humanist ethic at its core and is concerned with our relationship with nature. Yet the duo refrains from passing judgment or becoming didactic about the state of the environment. "In the beginning, we spent a lot of time looking into how we construct artificial climates," says Bigert about their earlier pieces, "but recently we've been focusing on geo-engineering. We're living in a very decisive time when climate change is the hottest potato. But… when countries like the Emirates dump oil for solar and India leaves coal for solar, there is a nice glimmer of hope at the horizon."
So, is the Solar Egg also a criticism of the mining conundrum the town finds itself in?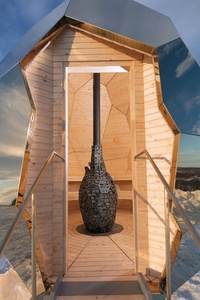 "It is not a criticism. It is a possibility to reflect on the transformation of the city, which has both positive and more problematic consequences. Without the mine, the city would be nothing. The relocation is imperative for the survival of Kiruna," says the artist.
For any budding urbanist this little sauna and the ideas about the city it tries to convey are delightful. Kiruna represents an enviable petri-dish, a possibility for experimenting and admiring how cities behave under non-disaster-instigated reconstructions. 
And yes, in a way, the Solar Egg could also be at home in a post-earthquake Christchurch, along with the hundreds of temporary architecture projects that rose from the disaster. Other than reconstruction, there are other themes in the Kiruna story that ring a familiar tune to the Kiwi condition.
There is a considerable shortage of construction workers there. Property prices are expected to boom unnaturally in coming years. Speculation and housing gaps are likely to arise. Fragmented as it is, this little, hot room in the inhospitable Arctic represents an almost kaleidoscopic view of cities and the many forces that shape them.