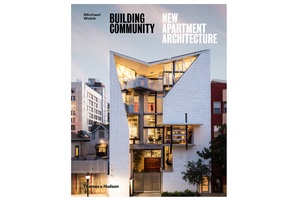 Vanessa Coxhead (VC): You live in a Richard Neutra-designed apartment; how has this influenced your perception of multiple occupancy housing?
Michael Webb (MW): I would say decisively. I've lived here for nearly 40 years and for me it's ideal. Designed in 1937 the courtyard plan, common in LA, is situated on a 45-degree slope. The apartments are stepped back and instead of a path running through the centre of the courtyard there is a staircase, and 64 steps up from the street is my apartment. It's like living in the countryside; the courtyard is full of trees, in fact, it's become a jungle. It gets ocean breezes, is moderately quiet, and full of light and fresh air. I never need air conditioning.
So, it's really a perfect demonstration. There's a deck outside where I can have lunch, and entertain in fine weather. In every way it's what an apartment should be and what became the starting point for the book, Building Community: New Apartment Architecture. 
VC: I understand that Charles and Ray Eames used to live in your home before they moved into the Eames House?
MW: Yes, Charles and Ray resided there for most of the 1940s. Interestingly, they both wrote to Neutra to tell him how much living here had enriched their lives. The apartment was really a very big influence on them and, as I write in the book, the Eames' identified themselves as "apartment-dwellers" when they presented their initial design for the Case Study House. I quote that because in Los Angeles, like in New Zealand, the default dwelling is a detached house of your own surrounded by a garden.
VC: Why a book on new apartment architecture and why a specific focus on a culture of community within these buildings?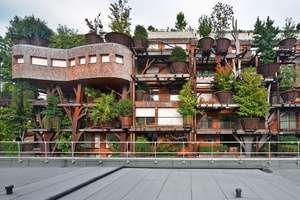 MW: I would say that it's become a very timely – urgent – subject for discussion. I was impelled to write this book out of two experiences: One, living in my apartment. And two, being able to transform a new building, which was being built across the street, from a six-storey wall to a building that stepped down the site. Out of that experience came a model neighbour; and a model for how to design an apartment that has cross-ventilation, light from both sides, terraces and gardens in which you can escape from your apartment.
And so began a year of research looking at apartment buildings around the world, and seeing which ones had those qualities of light, open space, sociability, but also privacy for the owners.
VC: You note in the introduction to Building Community that the value of amenity cannot be underestimated in apartment buildings. What are the three most important qualities to design for?
MW: Space, light and landscape; well-proportioned rooms with abundant natural light, opening onto gardens or planted terraces. And, acoustic isolation; nobody wants to listen to neighbours tramping overhead or snoring next door. They are universal qualities and it isn't rocket science. The problem is developers like sticking to a basic formula; the same formula that guides them for shopping centres, or an office tower, but that's a horrible way to live. There is no sense of identity. 
VC: Are there any ideas, technologies or models that you think might revolutionise the way that apartments will behave in the future?
MW: As the oceans rise I guess we'll all be living on houseboats. But short of that, prefabrication. A good example would be Moshe Safdie's Habitat 67 in Montreal. But prefabrication only works if you have economies of scale. In the case of Habitat, government funding cuts reduced the planned 900-unit complex to approximately 150 apartments, meaning they all became wildly expensive per unit and everybody deemed it a failure. But in fact it is one of the most desirable places to live in the city; there's a five-year waiting list to buy an apartment in Habitat.
Theoretically you could do that over and over again, varying the mix, introducing landscaping. It would be an opportunity to provide affordable housing, densifying certain areas of the city where there's public transit, leaving other areas green and open. That's what should be happening and it's not. 
VC: Who do you think is boldly challenging the status quo?
MW: BIG. Bjarke Ingels is a genius, but not everything he does is genius. His attempt to replicate the idea of 8 House in New York is too cramped; the corridors are too long, the apartments are too small, it fails in many regards. But the idea of tilting it so that many more people have a view of the river and having a landscaped courtyard with all kinds of communal activities underneath it, that is good.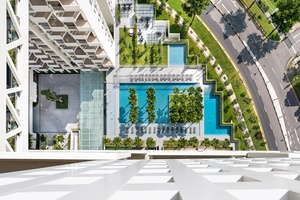 VC: Do you have any comments on apartment standards, and minimum sizes?
MW: I don't think legislation is very helpful in this area. What it should be of course is a match between architects and users. The middleman – the developer – is the villain here, but of course has a necessary function because they raise the money and essentially produce the building. There needs to be control over basic things; the stability of the building, the amount of light, the access, etc. Those things can be legislated, and are. There are height limits, and setback requirements, and the requirement for big buildings to be broken up.
But good apartments come in all shapes and sizes. I cite a Korean example where the rooms are very small; it's like living on a well-equipped boat where everything is built in and planned meticulously for that small space. So it isn't about size but about being well-equipped and well-proportioned. 
VC: In your opinion, what is the role of an apartment building in giving back to the public realm? What are the building's responsibilities, not just to the inhabitants and the residents, but to the community in which it resides?
MW: An apartment building, like any other building, has to be in scale and have some relationship; it doesn't mean it has to be the same. I'm in favour of putting very sharp-edged, modern buildings into historic settings because I think the contrast enhances both, but only if they're very sensitively designed, and relate to the buildings that they adjoin. That's one factor.
Another is that if the building is set back from the street with a garden in front, or a pocket park that is a meeting ground, the kind of area that mediates between the residents and their apartment and the people on the street; that's a highly desirable thing. The moment people are out and about, the building ceases to be a kind of "sealed container" walled off from the street; the moment the building is permeable it becomes a much more desirable addition to the community, and a much more desirable place to live. 
VC: The Kiwi dream is to live in a house with a full quarter-acre site, and the perception is still very much so that higher density environments mean towers and shoe boxes, etc. Do you have anything to add to this assumption?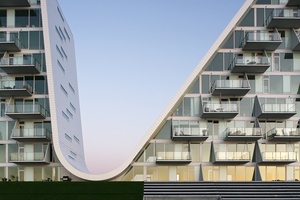 MW: The dream is universal; you find it in cases as diverse as England, which is over-built; America, which has huge, open spaces but also huge sprawling suburbs; Israel, where settlements are being built as though they were dinky, model villages instead of fortified settlements. The world is becoming more uniform every day.
The Anglo Saxon idea of the house – the separate house – which the Brits took to Australia and New Zealand comes up against the continental European idea – the apartment – which is a much more dense and unified urban fabric. There's a certain stigma attached to apartment living: it's as though if you can't afford a house, you settle for an apartment. It's a second-best option. What Building Community shows is that an apartment can have nearly all the advantages of a house, and none of the drawbacks of maintaining a very expensive facade, and roof, and so on.
There are more people leaving the suburbs for the city; very soon 75 per cent of the world's population will be living in cities. Most of them in slums, but they could be living better than they are if there were more enlightened ideas about planned land use, and planning and design. And the architects are ready to do that but they have not as yet been given the chance to do it, except on a very limited scale. 
VC: If you could build your dream apartment building, what would it include?
MW: I think it'd be very similar to the one I've got, but I'd make changes on the inside; take down the interior walls, make it open plan with a modest sleeping area, lots of bookshelves, an office… All of these are interior modifications and, in a way, an apartment provides a tabula rasa to do just that. In fact, I'd love to live in a loft with a ten-metre-high ceiling, to have that sense of open space – which Neutra never did by the way.