In focus: Studio Guilherme Torres
Brazilian architect Guilherme Torres talks with Urbis about design inspiration, materials and thinking holistically.
When did you establish Studio Guilherme Torres?
I officially opened Studio Guilherme Torres in 2001, but I've been working in this field since I was twelve years old, as an apprentice designer. Nowadays, we have changed our work philosophy. We have a very small staff, with only eight employees.
How would you describe the work your practice produces and your particular aesthetic?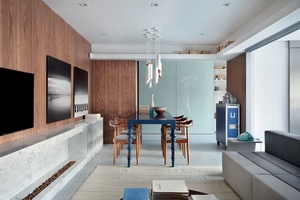 I always used to say that I only think holistically. To me, it's impossible to separate where architecture ends and where design begins – they both look the same to me, and that defines my aesthetic. I like to create something more peculiar.
What ideas or principles underpin your approach to architecture and interiors?
The truth – about the necessities, about the materials that I'll choose, about what touches me in that moment. I never research formulas; I prefer to follow my own way.
Where do you find inspiration for your design projects?
Experience is everything in life. You can read a lot or study a lot, but the real knowledge comes from your own life experience. So it doesn't matter if I'm seeing something beautiful or something ugly; it's all about how these experiences affect me. My function is to translate the world into design, whether it's drawing a building or an ordinary object. 
Does the history, culture or vernacular architecture of São Paulo influence your work?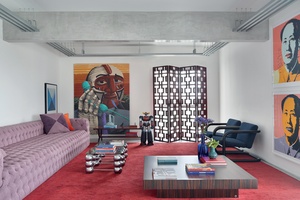 Yes! São Paulo is chaotic, and chaos is the best ingredient to inspire people. It's about learning from everything, and using our brains to find solutions all the time!
Your output includes furniture design and exhibitions as well as architecture and interiors. How do you approach design at such different scales?
To me it looks all the same – the real difference is about time. A house can consume my team for five years; for a table, thirty days. It thrills me a lot.
What was the starting point for the MX House?
The project was a renovation of a triplex penthouse by the ocean. The structure and plans were terrible, so we demolished everything and rebuilt it again. The client said, "Feel free to do whatever you want – but I only have a small budget!"
The apartment combines a beautiful range of different textures – timber mesh screens, perforated metal, raw concrete. What drove these design decisions?
Normally, an apartment doesn't show its architectural elements. I always start a project by creating a "shell" into which I put the architecture. After that, the furniture is just a consequence. I don't believe in interior design as a scenario.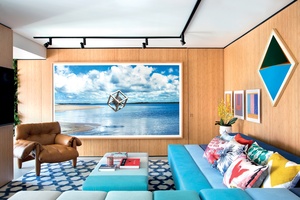 How did you settle on the materials palette for this project?
Concrete, white and wood – the three pillars for a good, sophisticated and low-cost project.
Thinking ahead, what projects are you working on at the moment?
I'm working on a lot of stuff right now, starting with a huge building retrofit, along with many residential projects, plenty of new furniture and also my book.
Read about the MX House here.