Inside story: Aaron Pollock and Mickey Smith
Early in their relationship, Aaron Pollock and Mickey Smith were forced to sell their mattresses for a whopping $200 in order to pay their rent in New York City.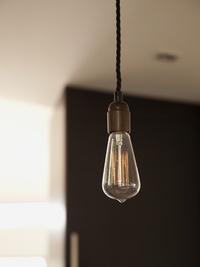 It was months after the terrorist attack on the Twin Towers and the couple was finding it difficult to secure work in the highly volatile environment.
"Mickey then had this crazy idea to start a design company," says Pollock, "so we got the Business Plans for Dummies book, got a loan, found a space, and bought computers." The rest, as the cliché goes, is history.  
According to award-winning, Minnesota-born, artist Smith, "the first two years in Manhattan were really exciting. Being in the centre of the arts community, exhibiting regularly, having my work showing up in covers of magazines and constantly being in different [art] residencies."
Pollock remembers seeing his work for a large clothing retailer being splashed across the nine digital billboards that wrap around Times Square.
The New Zealand lifestyle brought them back here in 2012. "It is difficult to get out of New York City and into nature. We had an amazing apartment in Greenwich Village and knew that it was as good as it was going to get."
The couple now divides their time between the United States (where Pollock art-directs music videos and commercials for the likes of Alicia Keys, Christina Aguilera and Sofia Vergara) and Auckland's Devonport. While here, Smith has been documenting the 18 libraries donated to the country by 19th-century steel billionaire and philanthropist Andrew Carnegie; Pollock does independent work for Villa Maria and Air New Zealand, among others.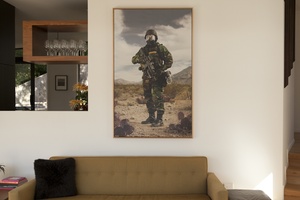 One of their largest undertakings involved purchasing an intimidatingly steep, triangular site and engaging Aaron's brother Cameron Pollock (an architect with local firm Jasmax) to build their new home. "The technical aspects of the site proved incredibly challenging," says the architect. "The site is small and falls steeply towards the southeast, it has tough heritage character zone criteria and planning constraints, and sits within a built up historic neighbourhood. Additionally, we had to accommodate several large trees, along with tight vehicle access and parking issues."
The result is a tall structure with a complex geometry, immaculate views, and various outdoor spaces that spill natural light indoors.
"We can't believe we get to live here!" says Smith. "It is everything we wanted it to be: we have only been in the house for a year but it gets better every day."