Inside story: Beth Ellery
Who needs a television when you've got 'The Tree'?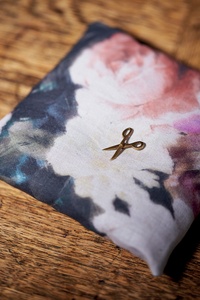 This particular tree is of the cherry variety, one that makes up in cheer for what it lacks in cherries, and it dominates the view from Beth Ellery and Sam Hartnett's lounge. Both visual artists (she a fashion designer, he a photographer specialising in art and architecture), its seasonal changes have become an engagingly meta-plot-line for the couple to obsess over.
It's also a fair representation of what they hoped to gain from abandoning apartment living.
They had already signed up for another property when they heard that the owner, a friend and art conservator, was leaving for England. Would they like to move in? You bet.
If you're an Auckland garden fiend you'll know it as the house that looks down on Kings Plant Barn in Mt Albert. "We'd driven past it so many times,'' says Ellery; "it's such a landmark property. When friends ask where we are, they usually say: 'Oh, that house'.''
Built in 1949 and designed by the otherwise anonymous H D Skinner, it's a narrow brick-and-wood home perched on the volcanic outcrop they share with an elderly, near neighbour. They call it 'The Rock' (as with the tree, they speak of it with capital letters) and with its internal brick walls and old-school fireplace it certainly has the feel of a monastic retreat. Ample windows provide 360-degree views, close and far, which means they can unobtrusively track traffic, pedestrians, the weather and, of course, 'The Tree'.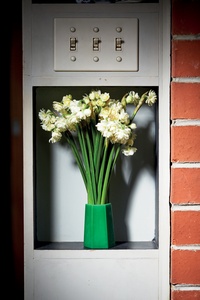 Hartnett is in charge of interior design, mostly sourced from his expanding photographic and contemporary art collection. "Well, let's see…'' says Ellery, "…those are my slippers, and the table is mine, but everything else is Sam's. It hasn't been put together in any kind of beautiful, curated way – the throw rug on the couch is more to protect it from the (two preschool) kids. We call it hodgepodge and it's grown organically, or maybe inorganically might be more accurate.''
The same could be said for the condition on the home: everything remains as it was when it first went up – some exterior fittings are crumbling; the interior textured wallpaper is flaking; and a few wall lamps have gone skew-whiff.
"Well, our friend is an art conservator so we look at it as conscious neglect and we love it. We do have fantasies of what we'd do if we could keep it, but then we are fantasists after all.''