Inside story: Cruz Jimenez
Devout collector and artist Cruz Jimenez shows us his villa and some of the objects he loves.
Cruz Jimenez is an artist guided by instinct; if something feels right, then it is right. It's how he found his way from Orange County, California, to New Zealand, how he found his home and it's how he's going about filling it: "I don't care about buying things to fit, and I don't know if it's a need or just about appreciating beautiful, well-made things, but I buy what I want and then I make it work somewhere… and there's always somewhere."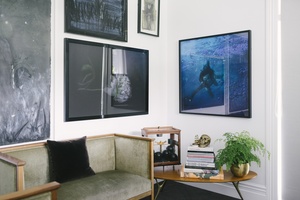 His collection kicked off half a lifetime ago in New York when a junk shop vase caught his eye. "I'd been a glassblower, so I understood the work that had gone into it, the finishing, the etching, all hand done, and I guess I got the bug from that." It wasn't long before he became 'the guy who collected things', all manner of things – so birthdays and special occasions inevitably meant new additions and the need for new 'somewheres'. Happily, his new home is bursting with them.
So when his awkwardly, oversized aluminium model of an old Air New Zealand DC8 (purchased in LA before he'd ever dreamed of living here) needed an appropriate runway to be properly displayed, the dining table seemed an obvious choice. It'll be even more appropriate when the new bespoke table arrives.
This all helps explain why he was instantly attracted to his home. Not that it isn't chocolate-box charming, it is –  it's that, having been transplanted from Epsom to a neighbourhood between Herne Bay and Grey Lynn, it isn't a natural fit with the surrounding '50s and '60s bungalows.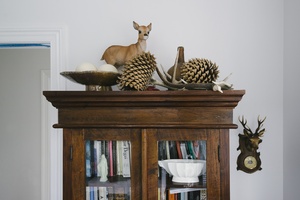 He's lived in this four-bedroom, 255m2 villa with his partner, Vaughan, for just over a year, and while it was hardly a do-up – the previous owners intended it to be their long-term home but had to return south after a family illness – there was scope for a do-over. If the interior has benefitted from a modernising spruce, the emphasis has been on the exterior where they have managed to create a varied environment despite adhering to a strict green and white colour palette.
Out front, tight block plantings will eventually play with variations in greens and leafy textures while a planted pathway connects to an area behind the house where a Japanese theme dominates. Sure, they are pleasing on the eye, but they're also potentially hard on the back; without regular maintenance they'll quickly get away on him.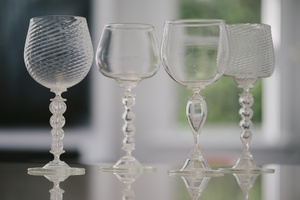 "That's exactly what I wanted, plants I have to prune and areas I have to weed. It was a deliberate decision to force me to potter about in the garden. And we might not be big flower people, but everything here will be able to be used inside in some way as well."
It's perfectly in keeping with Cruz's personal aesthetic. He likes to surround himself with beautiful things as long as they aren't too flashy. His standard uniform is a T-shirt and jeans, no matter the occasion, offset by 'crap' in his hair and the understated bling of his favourite watch and chunky rings.
"I've had my artistic phases, the youthful phase, the depressed phase. Now I'm in my comfortable phase, and my home puts me at ease."