Inside story: Joanna Hadfield
New Zealand fashion designer Joanna Hadfield and her photographer partner Andrew MacPherson show us their home above the Hollywood Hills in sun-drenched California.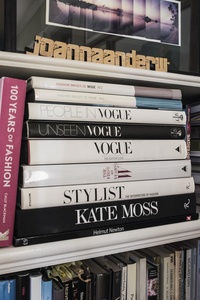 Joanna Hadfield looks over the wide expanse of Los Angeles. "It's just such a fun city," she says. "It's a place where anything's possible." And she's proving it. Having lived in Los Angeles for eleven years, her eponymous fashion label is flying high.
This house is where she designs, creates, lives and collaborates with her partner – celebrated British photographer Andrew MacPherson. Behind the jet liner views of the city, this mid-century Hollywood Hills house was made for simple, utilitarian living, and one imagines the people who designed the place in the '50s would be pleased to see it being put to such a variety of uses.
Downstairs, Joanna's workroom is a vast and tranquil space. Upstairs, Andrew's office is lined with stunning imagery captured over a long career. In between is a living area and outdoor terrace where they come together to conspire, entertain, stage photo shoots and marvel at the complexities of the city below.
"It's a working house," Andrew says, "and I'm a workman. We don't have a lot of fancy stuff." Work and the house brought them together, in fact. They met here when Joanna was styling New Zealand artist Kimbra (of Somebody That I Used to Know fame) for a shoot – and Andrew was the photographer.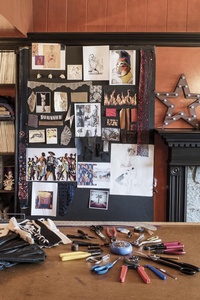 "After doing a few shoots together, I realised Joanna was seriously amazing," Andrew says, "I wanted to keep her in my circle so I tried setting her up with a friend. That's when she told me it was me she was interested in, and things blossomed from there."
The home is now their shared haven. Joanna and Andrew say this oasis above the city enables them to conjure up their creations, dreams and ideas – which seem to encompass and include almost anyone who steps inside.
Wandering through Joanna's work room is an almost visceral experience. Racks of her creations, made from leather, denim and amazing metallic foils are just about the most rock n' roll thing you can imagine. Yet her favourite material is silk.
Her clothes will either float up and airily kiss your cheek or look like they'll beat the crap out of you. In fact, Joanna's designs encompass a lot of the qualities of Los Angeles. They can be the gentle wave of a palm tree in the breeze or the architectural shimmer of a Frank Gehry building.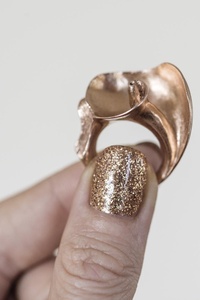 Even the workroom walls inspire Joanna, who confesses a recent obsession with the paint scheme. "The Moroccan orange fringing has got me obsessed with that colour," Joanna says. "I used to wish it was white because it's such a dark colour to work in, but when I asked Andrew about painting over his beloved lacquer, he bought me a headlamp!"
Up in Andrew's office, he's going through photographs he's taken on his first trips to New Zealand. Joanna introduced him to Aotearoa two years ago. He fell in love with the landscapes of the Coromandel, where Joanna's family have farmed for six generations.
The result is a book and exhibition that is a mixture of poems and wild imagery that pays homage to pictorialism and romanticism. "I've always wanted to do a project like this," he says, "and with Joanna, I've found the perfect muse and partner. It's been the best three years of my life."