Inside story: Raukura Turei
Auckland-born architecture graduate, artist and actress Raukura Turei has the sort of career that could make you reminisce back to your twenties and wonder what on earth you were doing with your time.

She studied architecture and worked for top New Zealand firm Stevens Lawson Architects, she has appeared in films including The Dead Lands and Find Me a Māori Bride, exhibited her oil on paper works here and internationally… and she only just turned thirty.
Urbis caught up with the prolific Turei at the Auckland studio of fashion label Miss Crabb – a space she helped design – to talk art, architecture and balancing work and life as a young creative.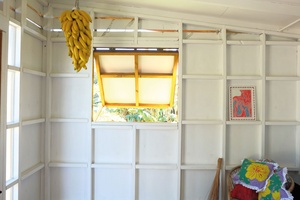 I read that your high school art teacher said she'd 'string you from the roof' if you didn't study architecture… other than the threat, what else sparked your interest? I'd kind of grown up with building around me, but I was a total art kid and I just wanted to stay at school in my lunchtimes and paint; that was my happy place. It was the physical act of making and drawing to find outcomes that I really loved for problem solving; architecture is great because it allows both sides of my brain to work in a really productive way.
Who are some of the modernist architects that you love? A woman that I love, and I haven't gotten to visit her work yet, is a modernist called Lina Bo Bardi. Her work is in South America. When I was doing my thesis around performance architecture and theatre, she was an influence because she did some really progressive, almost guerrilla-style work that was very much ingrained in the fabric of the cities, taking over disused buildings.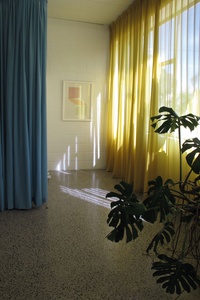 Your work has a certain calmness and minimalism. Where does your aesthetic come from? My aesthetic is building all the time. For this project [the interior division in the Miss Crabb studio], Kristine Crabb's main brief was 'I want something to be inspired by'. Because it's a work environment, it needs that element of calm; it needs a presence that doesn't take away from the clothing but is constantly giving. The installation was able to use the light so it was changing throughout the day.
How does your love of architecture and fine art play off against each other? I love early modernists like Gio Ponti or Le Corbusier, architects that had a real love or affinity to painting and travelled that through into their spatial practice. The jump back into painting for me came when I was in Vancouver, not from a desire to produce visual work for others, but to do painting for myself. I had just gone through a bit of a horrific breakup, so I jumped to painting in a very therapeutic mode and painted my arse off for a few months.
Tell us a little bit about the Cook Islands residency you did earlier this year?
I went to Rarotonga on my way home to Auckland. The Pacific Portraits I made there were still a continuation of the self-focused, insular moments I was drawing on with abstractions of my own body. Staying at the residency in Rarotonga, I was inspired by the colour palettes there – when you're in the Pacific, you can't not want to draw out the richness and the colour of the gardens and the food, the people, the tivaevae, the clothing.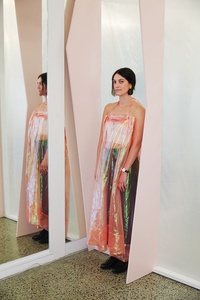 You've been working as an architect and an artist, but how did the acting come into play?
The acting was a means to build how I could use my voice; I was quite a shy kid growing up. It was like 'oh wow, this is a tool I can utilise in real life' and, especially in architecture, we have to present so much through spoken word and presentations. Little did I know that it would also lead to some fantastic acting work; that was a miraculous bonus.
Do you think this is the modern way, having lots of different job roles? If you're in the creative world and you want to do a form of art or craft that you love, then when you're starting out, that won't be the only thing you're doing. That is called reality.
Pending: SELF, a collection of works by Raukura Turei, is on display at Allpress Gallery in Auckland until 22 December 2017.