Inside story: Rebecca Smidt and Dariush Lolaiy
Rebecca Smidt and Dariush Lolaiy from game and wild-food restaurant Cazador show us the objects they can't live without.
After seven years of globetrotting, it's understandable that Dariush Lolaiy and Rebecca Smidt treat their home like a backpackers.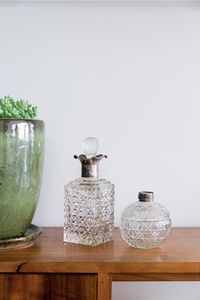 "At the end of a busy week, we'll look at the couch and realise we haven't sat on it once… but that's what happens; we'll eat maybe one meal here, then fly out the door in the morning and won't be back until midnight.''
Work happens at Cazador, the Middle Eastern-inspired restaurant Lolaiy's parents set up in Balmoral 30 years ago, and it's the primary reason the couple are back at all. Apparently his parents thought he was off on a six-month holiday, so by the time seven years had passed, they felt it was high time he returned to take over the business.
Fair enough, but having lived in each other's pockets for so long, Lolaiy and Smidt weren't exactly chomping at the bit to not only work together but share the small flat above the restaurant where they first met as well.
"So we did what all first-home buyers are being told to do and started looking for an apartment,'' says Smidt, "and that meant looking for properties every single day. If we found anything we liked, we were ready to pounce straight away." Even from the other side of the world.
As it turned out, they were in the Czech Republic when Smidt's brother advised them of a promising find – perfectly-located in genteel Northcote, it had views in two directions and, best of all, was within a few parked cars of the motorway and the noise was turning many prospective buyers away. Score.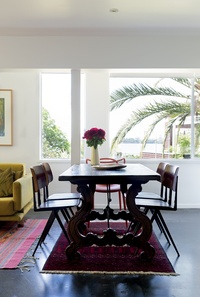 Now settled in, their design aesthetic is best described as "low maintenance" which is, again, understandable given their workload leaves no time for tending a garden or pondering the perfect positioning of knick-knacks. And anyway, with only two rooms plus amenities it's more about what you leave out than what you bring in.
Besides, it's as much about the life their apartment enables. "We'd been living in London which, of course, was amazing socially," says Lolaiy, "but we were living in a cave. So if we were coming home we didn't just want to live here, we wanted to feel like we live here, too."
Oddly, it's the bane of many North Shore lives, the Harbour Bridge, that came through on this one. "Work means we leave at about 10am and return around midnight, so the traffic is fine… and I really enjoy both trips. It's like the city welcomes us every morning, then the return back when it's dark and there isn't a lot of traffic, that's a rare chance to wind down."
This only reinforces the need for the items they have chosen to surround themselves to have meaning because, as with the wider city, they don't just want a home, they also want to feel at home when they get there.
As you can imagine, their spare time has seldom been so important.