Inside story: Sid Sahrawat
Sometimes a home isn't just for living – it's also for personal restoration. This is exactly what Sid Sahrawat craves, pretty much six nights a week, 52 weeks of the year (one family holiday excepting).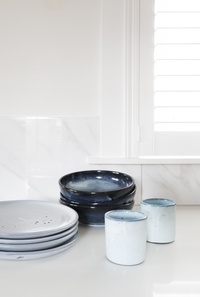 His downtime is now a precious commodity because, as chef and owner of Sidart, the multi-award-winning Three Lamps restaurant and the recent and equally lauded Cassia, work casts a constant and naggingly demanding shadow; so much so, that his wife installed a commodious wine fridge in the hope that it might get him back to their two-storeyed Northcote (Auckland) home just that much earlier.
Still, some might find the thought of creating a relaxing nest alongside the ever-jammed Onewa Road somewhat unlikely, which is maybe why it failed to sell at auction and then all but fell into the Sahrawat's hands last October. They'd been slightly reluctant homebuyers too, with the imminent arrival of second child, Roan.
But with eldest daughter, Zoya, fast approaching school age, a school rezoning within their old Blockhouse Bay community all but forced their hand. Their wish-list hadn't been particularly onerous. Sid was keen on reducing his 40-minute (on a good day) commute, he fancied the grounded vibe of your garden-variety Grey Lynn villa (sans the price tag), and, most of all, it had to fit their bespoke and enormous stainless-steel-topped kitchen table – the fixture that now battles for living room domination with the central brick fireplace.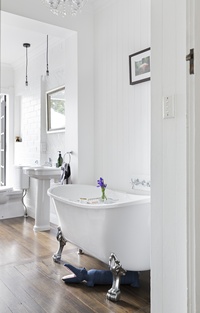 'Only just' best describes how that worked out, but they'd already been won over by the view from the deck and across the backyard, and (for Chand anyway) the claw-footed iron bath tub that sits under a rather resplendent chandelier. There's even a door that allows a view of whoever's tending the barbecue as you soak – if that's your thing.
As they've yet to clock up the home's first anniversary, they haven't done much more than warm it up. To that end, they've installed heat pumps and insulation, while also upgrading some pipes, the hob (chef's needs must come first) and automated the gate to their off-street parking area. Otherwise, they're more than happy with the simple monochromatic colour scheme – after all, it matches the artwork they've been carrying around for about 10 years, as well as that unavoidably impressive butchery, sorry, kitchen table.
The location has also worked out with Sidart Restaurant reachable in six minutes, Cassia in 15 and Zoya's school only a short walk away.
If there's a bone of contention, though, it's the fireplace. It not only divides dining from lounging, but it also divides family from friends. Some want it dismantled; the family want it to stay. Currently, the winning vote is held by five-year-old Zoya; if she had her way it'd be blazing away every day.