Take a left off SH2, meander through a forest, swerve to avoid the odd chicken and you'll arrive at Unna Burch's Lower Hutt home. This sylvan setting makes perfect sense when you meet the food photographer, stylist and author of My Garden Kitchen, a cookbook based on the organic vegetables, honey and poultry from Burch's property.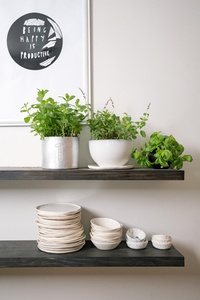 "The view from every room is one of trees and native plants," says Burch. "It fits perfectly with our ethos of living off the land as much as possible." For her, that means growing veggies, keeping chooks and beehives. Future plans include building her own home and selling honey.
It all sounds very Good Life, and it is. Burch, her husband Aaron, and their two children moved into the rented property five years ago, following a shift from Hawke's Bay to be closer to family.
It was a short leap from the living-off-the-land philosophy to the Forest Cantina brand ("Forest because of where we live, and Cantina because I'm always in my kitchen") which now encompasses photography, styling and writing.
Burch's workshops, which she's been running in Auckland and Wellington since August, have been a hit with food-loving Instagrammers. In another serendipitous twist of fate, her blog recently morphed into a cookbook.
"Four months after launching the Forest Cantina blog, I was offered a publishing deal. I've always had a love of food. I come from a foodie family – my brothers are chefs and my grandmother was the best home cook ever."
Burch says she has one rule, a quote featured at the start of her cookbook:
"Do everything with so much love in your heart you would never want to do it any other way."