Federico Monsalve caught up with Wellington design student Josh Bruderer, maker of the io lamp.
Tell us a bit about the io lamp.
The io lamp is all about interaction. I focused on the switch as a way to create a more engaging and memorable product. To turn the io lamp on, you balance the ring on the stem. This simple action refocuses attention towards the object, while also changing the physical form of the lamp to reflect its new state. To turn it off, you lift the ring and hang it on the stand.
The io lamp is made up of two components – the ring, which houses a strip of LEDs behind an acrylic diffuser; and the base, which is weighed down by a block of machined marble. The base and the ring have corresponding copper contacts, positioned at the unit's centre of gravity.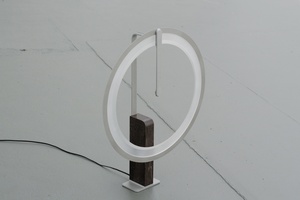 How did the idea behind the lamp materialise? 
The idea came out of a study into how everyday objects can be designed to have more meaning and impact. Function and aesthetics are important when designing something effective, but interaction can add to this to really create a lasting, memorable product.
So I really started out with the interaction, figuring something out that would be simple and logical, but mindful as well. The aesthetics and function followed on from this.
What comes next for such a prototype?
I would love to develop the io lamp further and get it into production. There are a few companies that I really admire, and who I think would have the resources and knowledge to get a concept like this further. There are still a few things that need to be developed, so I would like to contact them about the prospect of working on it together.
Which designers do you admire?
I'm really inspired by Daniel Rybakken, who focuses on the intangible effect that light has. I also really like the rationale behind 'Node' by a studio called Odd Matter –that the act of turning a light on is an important transformation from one state to another, and that this should become a part of the design. I like the idea that light can mean more than function or aesthetics – that there are really strong psychological and metaphorical links to creating and interacting with light.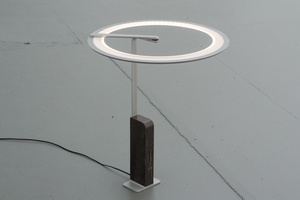 Other than design, what else fuels your creative work? 
I love art and architecture. I'm really interested in culture, and these mediums are really reflective of the era that they were produced in. I also paint when I have time, and usually give the paintings to friends and family as gifts.
Have you got any new products up your sleeve?
At the moment I'm working on a lighting installation with three others, which is set to be exhibited in the Wellington Botanic Gardens in January. I would also love to take the io lamp overseas, perhaps to exhibit in Milan for the 2017 Salone del Mobile.