It started, as these things often do, over a beer. But this wasn't any old beer – this was a Japanese tipple, consumed in a tiny izyka (bar) in the cobbled backstreets of Kyoto.
Wellingtonians Daniel Whitaker and Emma Ransley had been criss-crossing Japan for several weeks, greedily drinking in that nation's restrained design ethos.
"There's something about Japanese simplicity and reverence for domestic objects that really speaks to us," says Whitaker (30). "We visited numerous beautiful retail spaces and studios and were often struck by the way the makers/artists/shop owners integrate their work into their daily lives."
That warm July day last year, as the shadows lengthened and their glasses were emptied, the couple made the decision to start their own bespoke furniture business.
"We realised there was a need for handmade sustainable pieces that reflect the Japanese – and our – sensibility for quiet permanence," explains Ransley (31).
They were eminently suited: Ransley trained as a performance designer, detoured into film and fashion and now heads up the design department at Toi Whakaari, New Zealand's national drama school, while Whitaker qualified as a joiner, spending five years crafting kitchens, stairs and doors (go back even further and both his grandfather and father were furniture restorers).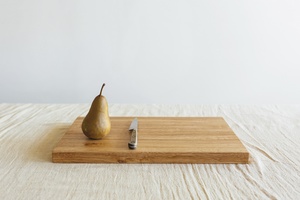 But spending his waking hours on design that he wasn't passionate about eventually wore Whitaker down, so in 2012 he took off around the world, eventually returning to a degree in philosophy and cultural anthropology at Victoria University.
Perhaps as a way of using the right side of his brain but also because he "likes making stuff", Whitaker began hand crafting furniture for the various flats he and his partner Ransley lived in.
The beds, sideboards and tables had such a positive response from family and friends, the couple knew their aesthetic could translate into a business. And then Japan happened and The River, their Newtown-based design studio, was born.
"We figured now was a good time as any," says Whitaker, who juggles the design and creation of the minimalist, one-off Tokyo benches, sideboards, dining tables and food boards with his master's degree in education. Provenance is important to this couple, who source their Tasmanian Oak and tussock board, made from pine off-cuts, from a small supplier in the Wairarapa.
"They can pretty much show you which part of the forest the tree came from," says Ransley, who spends around 10 hours a week managing the business.
Whitaker takes a particular delight in using the much-maligned pine in his furniture: "Pine has such a stigma attached to it but it also has a lovely colour and lightness about it, as well as being a great material to work with. I hope my work is able to render it in a different light."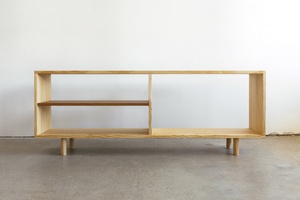 Recycled oak also plays a key part in The River's oeuvre, particularly in their elegant sideboards crafted from 60s and 70s bedheads. "We scour op-shops and second-hand stores for oak bedheads because they make great shelving in the sideboards, as well as for food and chopping boards," says Whitaker.
The bulk of the construction work is done at Whitaker's father's furniture restoration workshop in a semi-rural area of Wainuiomata. A room downstairs from their two-bedroom flat, which used to be an Indian restaurant, is where the pieces are finished.
Not surprisingly, construction methods are critical to Whitaker, who won't use nails unless he absolutely needs to. Instead, he painstakingly crafts dowels, which take longer but underline his desire for authenticity.
"It's all about having respect for the materials and the furniture," says Whitaker. The couple dipped their toes into the retail market with a pop-up shop they successfully ran for six months. But they're now turning their efforts to online sales around New Zealand. The plan is to eventually build a home and workshop in the Wairarapa, but for now this couple is focusing on creating sustainable pieces with integrity and longevity.
"I think it's important that we have a relationship with the objects that dwell with us," says Whitaker. "In this sense we aim to make the story behind our pieces transparent for our clients and contribute to the community of local designers and craftspeople that concern themselves with such things."