Invoking warmth: Thomas Hamel
Thomas Hamel has been a leading eye in the international design world since his firm Thomas Hamel & Associates was established in 1990 in Sydney. Here he speaks with Justin Foote about his views on creating warm spaces and his upcoming visit to New Zealand.
Hamel will be part of the Pinnacle of Interior and Garden Design event at the Farm at Cape Kidnappers, 19-21 August.
Justin Foote: This issue of Urbis magazine is all about warmth, how do you set about creating a 'warm' aesthetic? Is there more than one way to achieve this?
Thomas Hamel: To create a warm aesthetic the most vital element to consider in an interior is lighting. Being able to control and adjust the lighting of the room enables you to create an atmosphere depending on how you would like to portray the mood. We would typically not only have dimmable downlights, but also wall sconces, ceiling-mounted decorative lighting, plus, of course, table and floor lamps, which all create shadows and imply intimacy. Choice of materials can also contribute to the feel of the room. Timbers, rugs, blankets and cushions can all assist in creating a feeling of warmth.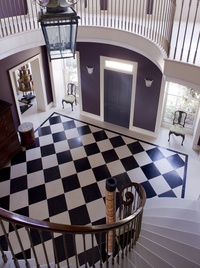 JF: In a large, open-plan or loft-style space, what is the best way to create a cosy ambience?
TH: Creating intimate settings within an open space and playing with the scale of the room can create a cosy ambience. Reinforcing the intimacy of the space using table lamps, floor lamps and pendant lighting to create pools of light helps to create a cosy ambience in a large space. I would also consider the possibility of room screens and dividers, maybe even glass dividers, as they would visually break up spaces that are large in scale and make for more intimate living.
JF: Is less actually more when it comes to conveying warmth in an interior?
TH: In any good interior, I find that editing is always an essential process to consider. It's all about having the perfect balance of the right pieces at the right time.
JF: Kiwis, as a rule, are fairly conservative when it comes to colour – what's your own convention when it comes to injecting colour into a design scheme?
TH: Personally my interiors tend to be more subdued with a focus on soft tones and textures. Using this as a base, we can then introduce pops of colour which can be easily edited in the forms of decorative accessories. Cushions, objects of interest and artworks are another way of adding colour and texture to a room. This then allows clients to easily re-transform their space in the future by editing the more portable items and introduce new colour palettes without having to change the sofas and rugs which are not as easy to replace.
JF: Which materials do you believe are under-appreciated or under-utilised in modern interior design?
TH: It is important to have a combination of textures in an interior so when your eye travels the room it doesn't get bored. Each room should have something handmade and organic as it adds an additional layer to a space. I love incorporating raw materials such as woven baskets, stone sculptures and raw timbers which add an extra element of texture, which can sometimes be lacking.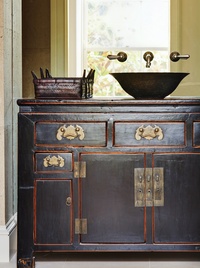 JF: You'll be visiting New Zealand in August. Is this your first trip here? What are you looking forward to experiencing?
TH: I have been fortunate enough to travel and also work in New Zealand over the years so I am very much looking forward to returning and experiencing the hospitality at The Farm at Cape Kidnappers. I spent last Christmas in Queenstown and witnessed a spectacular summer, which was incredible. I adore all parts of your country and feel that the raw natural beauty is the envy of the world.
JF: Your cultural mix – US and Australian – has led to a distinct, modern-classic style; what can you bring to a New Zealand audience?
TH: My experiences from my early years in the United States gave me an appreciation for classicism and grandeur, which was the perfect base for my transition 'down under', where interiors tended to be more relaxed and pared back. It was because of this mix and my years of extensive travel that I was able to create a unique narrative in my interiors, where the traditional mixed with the unique.
For New Zealanders, I think it is important to always be conscious of how unique your environment is and incorporate elements of your culture and geography so that reflects in the interiors. With all clients I work with, in any part of the world, I try to emphasise that you need to be confident with your choices and that it is good to experiment and not feel the need to follow global trends, but be true to yourself.
JF: Where do you find inspiration?
TH: Everywhere! I love to travel and this is one of my ultimate sources of inspiration. I am lucky enough to visit showrooms and galleries across the globe and am consistently inspired by what I see and how design evolves. In addition to my comments above, I think it is important to be informed of the options the world offers, and hence I love to see furnishings, art and lighting from all corners of the globe. This variety makes it easier to determine what is the most suitable for different projects in various locations. I'm also inspired by my clients and my team as we work together and constantly try to create a unique space for each of our projects.
JF: How important is it to take a 'sympathetic' approach based on the architectural style of a room or house when creating an interior?
TH: Architecture is very important to how we work, right from the very start of a project. One of the golden rules I was taught when starting my career at Parish Hadley in New York was to not even consider the interior of the space until the architecture was correct. Once all the doors, windows and walls are in the right place, the furniture and decoration can follow. Sometimes, we have the most fun creating surprising spaces or rooms, such as a full English pub we designed for a private residence in Singapore, as we are guided by our clients and must ensure we create an interior which reflects their personal style and personality.
JF: Is design universal or do we tend to follow regional conventions?
TH: I most definitely believe that design is universal and love how we are lucky enough to be exposed to such a variety of furniture and art from all over the world, which we can propose to our clients. You can work on a very contemporary home with modern interiors which could be situated next door to a traditional home with a more antique-based interior, and you could be anywhere in the world in either of them.
JF: How do you know when a design is 'finished'?
TH: For me, it's difficult to finally pinpoint a time when I would declare a project 'finished'. I'm very lucky that my clients are so involved in the journey and even when they move into their new home, they are always seeking additional pieces to add to the interior to make it more special or editing existing pieces to play with the space. This is why they are my inspiration as I mentioned before!
JF: In the US, high-end interior design tends to be turnkey where everything from the artworks through to the cutlery is sourced for each project. This is a fairly alien concept for Kiwis who tend to have an eclectic collection of (usually inherited) furniture and furnishings. How do you incorporate new and 'used' into your design schemes?
TH: Juxtaposition is something we always incorporate into our designs as we find the placement of traditional items with objects of interest makes the perfect combination. Luckily some of our clients have wonderful inherited pieces, which they do not want to part with, and this makes it more exciting for us so we can create an interior around items that mean something to them and allow them to shine. I am a strong believer in history and that items in one's home should 'tell a story' about the homeowners, hence the inherited pieces are a vital part of this story.
Hamel will be part of the Pinnacle of Interior and Garden Design event at the Farm at Cape Kidnappers, 19-21 August.