It takes a (vertical) village
Vanessa Coxhead chats with New Zealand-born, Paris-based architect Brendan MacFarlane about how apartment buildings can foster communities.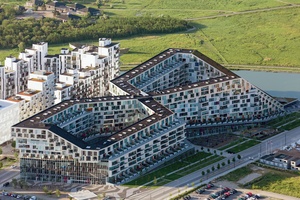 Even though housing density is a hot topic, even though the number of resource consents for high-rise apartment buildings in Auckland is at an all-time high and even though there's a fierce market for private apartment development in Wellington, it's clear that we're still in love with the quarter-acre paradise.
Yes, apartments still get a bad rap in New Zealand. There's a certain stigma attached to apartment dwelling as 'second best' – if you can't afford a house, you'll settle for an apartment. The same could be said for social housing, once seen as a national success story, now widely misunderstood as a failure. Somewhere in the post-war era, the individual, privately-owned, single-family house took on the connotation of freedom. For these reasons and more, we face new questions about living in a community, of dwelling diversity, of promoting sociability and of creating conditions for neighbourliness.
A number of architects are challenging this status quo, both at home and abroad, tapping into the apartment as a building type of growing significance and seeking new ways for different groups of people to be city-dwellers. Across the ditch, Breathe Architecture's The Commons takes a unique approach to apartment life in Melbourne's inner north suburb of Brunswick.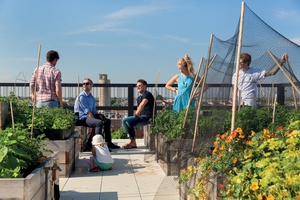 The Commons now serves as a prototype for the ideas of the Nightingale Housing model led by a band of leading, like-minded Australian architects keen to deliver contemporary urban housing that supports well-being, community and liveability. Closer to home, Thom Craig's MegaTower, a tiny footprint mixed-use building in Merivale, Christchurch, upholds the same frugal inventiveness – what MegaTower lacks in size, it gains in proving that you don't need a huge scale to build a generous home or office or both.
Some of the projects that have recently come to the attention of critics include those by New Zealand-born, Paris-based architect Brendan MacFarlane, and his practice with Dominique Jakob, Jakob + MacFarlane. Their 2008 Hérold social housing development on the north-eastern edge of Paris contributes to the ambitious goal of building community among residents and neighbours through public housing. Here the modest, gently angled façades and tapered profiles of 'mineral' forms house a hundred apartments enveloped by generous plantings that continue, up and around the building, on the outer edges of the moss-covered balconies.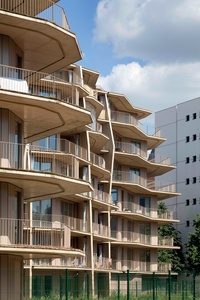 MacFarlane describes the building as one of a series of explorations coming out of their office; one that investigates how both structure and tight restrictions can influence a project. This complex set of qualities and systems, along with his experience of growing up in a New Zealand state house – outside any idea of the 'collective' – has given rise to a building where corridors are reduced to a minimum. Instead, the units are accessed via a service core and a terrace at the rear, allowing most dwellings to benefit from double orientation.
Locating livelihood and amenities are vital in these new versions of an old typology. There's a certain fluidity in the spaces, something MacFarlane alludes to as "transitional, collective spaces… much like a café, but part of a private world too." In Hérold, this is evident in the heart of the buildings, from the vertical circulation leading on to wide, outdoor terraces from which one enters the dwellings.
Glazed, sliding walls define the interior from exterior, liberating the façades and allowing permeability and flexibility. Residents can easily drag a chair out of their apartment to sit with others. MacFarlane has observed people doing this, activating the building's circulation as not only a public space but also an extension of the living room. In his words, they've created an architecture that "gives that possibility".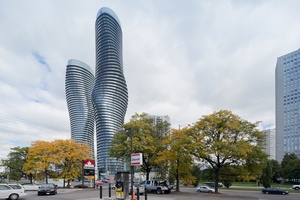 The universal qualities of diverse living spaces and basic amenities such as space, light, landscape and a sense of visual and acoustic separation that we cherish in our suburban ideals are at the core of these multi-level, multi-residential projects. MacFarlane asserts that "one of the biggest issues confronting housing for a designer is how to break isolation down; an isolation caused by going vertically, by not having much collective space outside your apartment, and an isolation caused economically. The shared spaces that you do have need to be maximised."
Hérold's sensitive response to a large block of land peppered with protected trees, polluted soil and a requirement to ensure the ground-floor apartments are accessible to out-patient residents from the hospital that formerly occupied the site recognises this strategy of more with less.
Looking ahead, Jakob + MacFarlane are continuing to explore the mixité of spaces in Community House, a block of apartments and commercial and civic facilities that respond to, upgrade and link an existing square and meeting place in Knokke-Heist, on the Belgian coast. On the drawing board is a project for the French city of La Rochelle that densifies the city through the reuse and adaptation of existing buildings into apartments, while introducing a bird sanctuary, turning the site into a garden around which housing can develop.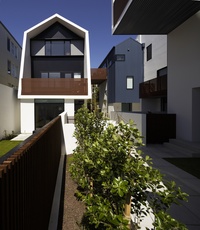 In New Zealand, it's early days for the reinvention of the typology, but there are several projects that demonstrate a shift in thinking. The Zavos Corner apartments by Parsonson Architects had to fight their way onto a prominent corner in Mount Victoria, Wellington, and now they're regarded as something of a model development by the council.
Hobsonville Point's ambition to build a strong community through diverse building types is admirable, but let's 'watch this space' to see how the myriad of players mediate this large-scale residential development that could create a new benchmark for our urban neighbourhoods. In our own backyard, we need to make some leaps and strides. There are many aspects to consider here: social, political and economical. In order to solve them all, many parties will need to get on the same page. But the change is happening.  
For an interview with Michael Webb, author of Building Community: New Apartment Architecture, see here.