Dean Cornish talks to fashion designer Wayne Sørensen about the path that took him from Whangarei to an idyllic home in the arid hills of Portugal.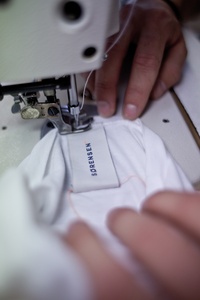 Charcoal flames lap around the edges of a whole Portuguese turbot. A fish so fresh you want to give it a quick knock to the head to make sure it's not feeling the heat. A fish that was sitting, just 20 minutes ago, in a quintessentially local wet market and has since been driven up the hill at breakneck speed to this beautiful box of glass and steel. A fish that's about to meet its companions for the evening: bacalhau chickpeas, chourico and vino verde – which men's clothing designer Wayne Sørensen produces in an effortless whirlwind.
The sun is setting, and although it's the most commonplace thing in this world, you can't help but comment on its blood-red majesty as it throws its final rays over the arid landscape just north of Portugal's second city, Porto.
Wayne has lived in this slice of paradise for two years. Originally from Whangarei, his journey to Portugal follows a career working for high-end British fashion icons in London such as Burberry and Orlebar Brown. In the last two years, he has launched his own label, following those luxury British brands to a state-of-the-art clothing factory in the Braga region of Portugal, where his clothing label Studio Sørensen is produced.
Whilst it was the skill of Portuguese clothingmakers that originally drew him here, he's found that the lifestyle and location provide the perfect antidote to the rigours of travel and what he refers to as 'the noise of fashion'. "Portugal is the introvert to London's extrovert," Wayne says. "I'd been living in London or 15 years, and was ready for a change. There are a lot of similarities between Portugal and New Zealand, and I was increasingly drawn to the place. The upsides to living here are food, climate, cleaner living – and time."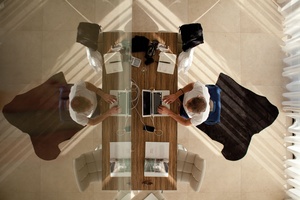 So while regular work trips see him visiting stockists in London, Paris, Los Angeles, Tokyo, Mannheim and the Maldives, gradually Portugal has become home, due in no small part to this stunning building. "I had in my mind's eye the sort place I wanted to live in – and this was essentially it," he says. "I had a slight hyperventilation when I first saw it." But Wayne quickly learned to relax here, and this hillside home is now his cherished creative space.
Nestled on a remarkably thin site, the footprint of Wayne's home is almost entirely on a cantilever. The building consists of two long thin stories, with the top level connected to the land – and itself – with a series of bridges. The huge double-height living area gets light from morning to evening, enabling Wayne to exercise his self-professed obsession with fabric, colour and texture.
The whole house has ancient rock formations at its back and endless views of valleys and villages to the front. The minimalist space allows for some carefully-curated reminders of home, including a photo of Wayne's grandmother in prominent place. "She was the first person to let me touch a sewing machine," he says with love, pride and a hint of nostalgia. Does he miss home? "I get back once or twice a year."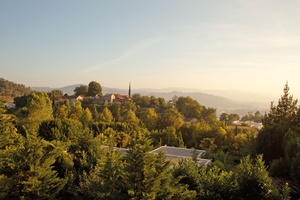 Wayne says that his life in Portugal is simple routine, creativity and nourishment. Days begin with a walk to a medieval church at the top of the hill. "I'm naturally a morning person, and you can't have a bad day after climbing this hill at sunrise. The local village is simple, with not a lot to do, and there's a beauty in that. I go to the market twice a week, eating seasonal fresh local produce, which is more difficult to access in London. Living here means you're easily able to engage with these things – and London's still only two hours away.