Kuala Lumpur: Out & About
With a population of 1.6 million, Kuala Lumpur (or KL as the locals call it) isn't as large as you might imagine; yet, it is one of the fastest-growing metropolitan areas in South-east Asia. Currently, construction cranes are bursting out of KL's skyline and grimy areas not only make way for new skyscrapers but also interesting new retail spaces, Kiwi-style cafés, pocket parks, cycleways as well as speakeasy bars you'll need to hunt down to find.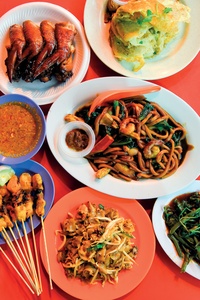 Areas like Bangsar are filling up with cool creative types. Café/roastery Pulp by Papa Palheta is situated within former industrial printing buildings redesigned by some of KL's hottest young architects. While, on the other side of the central city, pre-war backstreet shop-houses have been transformed into The Row, a hospitality cluster of bars and cafés which features plants trailing down its façade.
Malaysia is incredibly humid so you'll appreciate the plentiful supply of air-conditioned mega malls that are dotted all over the city. Allow plenty of time for shopping, though, because it's reasonably priced and never-ending.
Food is cheap here and, even better, it's unbelievably delicious. If you love Asian and Indian flavours, you'll be in heaven; from Chinatown's street-food markets to the informal Indian restaurants serving curries and accompaniments on large banana leaves instead of plates.
At sunset, one of the best views of the city – with a drink in hand, of course – can be found at the Heli Lounge Bar, built on a helicopter pad.
To escape the hum, visit one of the numerous tropical parks like Perdana Botanical Garden, or venture further to Batu Caves and Temple. Both are delightful, as is a stay at Villa Samadhi (pictured at lower, far right) – an inner-city oasis of contemporary Malaysian chic – or the newest hotel on the block, The Kuala Lumpur Journal.
If you fancy venturing outside of KL overnight, then drive south to the historic port town of Malaka for its rich architectural history which speaks of successive colonial takeovers. Stay at Courtyard@Heeren, a former shop-house that's been remodelled into a boutique hotel. Be sure to try homemade nyonya or Peranakan food; this unique Malaysian specialty is one of the world's greatest cuisines.
Kuala Lumpur Insider's Guide
Eat & Drink
Devi's Corner: Delicious well-priced curries are served on banana leaves in this basic Malay-Indian-style restaurant in the fashionable area of Bangsar Baru. 
WonderMama: A very cool concept restaurant with an interior inspired by Malaysia's colonial roots mixed with touches of industrial. 
Huckleberry Food & Fare: Designed by hot young designers Seshan Design, this is one of the best bakery/cafés in KL, with authentic sourdough breads and other specialties. 
The Row: Try any of the outlets at The Row: Butter + Beans, League of Captains and, for something stiffer, the 44 bar. 
No Black Tie: This jazz club is an institution in KL. Its intimate wooden interior ensures good quality acoustics for the performing local and international acts, while a gastro bar helps negate the effects of any alcohol consumed. 
Galleries & Shops
I Love Snackfood: Selling new and used homewares, apothecary, books and magazines – all from the quirky end of the spectrum, including vintage typewriters and Indian enamelware. 
Bukit Bintang: This upmarket shopping area hosts malls like Pavilion, for high-end designer gear, alongside chains like H&M and Uniqlo for quality basics. Raised walkways lead to more shopping malls at differing price points. Go to Muji if you need an extra suitcase – stylish and not too pricey.
Places
Perdana Botanical Garden: This garden is a beautifully lush heritage park, recently christened with a new bamboo pavilion/playground designed by architect Eleena Jamil. Batu Caves For natural architecture, visit the 400-million-year-old Batu Caves, a dramatic limestone hill that features caves and temples and one of the most popular Hindu shrines outside India.
Villa Samadhi: This is one of Malaysia's top hotels but it feels more like a private residence situated in a tropical paradise than a city hotel. Elegantly styled in bamboo, salvaged timber and polished concrete, the villas overlook a large pool and a restaurant that serves all-day breakfasts. 
KLCC Park: There is a great view of the Petronas Twin Towers from KLCC Park, designed by 'the Picasso of landscape architecture' Roberto Burle Marx and planted in indigenous tropical trees.