This apartment in Paris' iconic seventh arrondissement has been designed to be in harmony with the cultural, artistic and historic elements of its neighbourhood.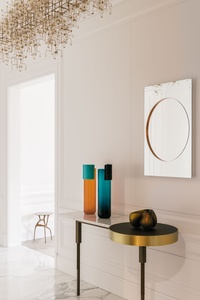 When Claude Missir's clients finally decided to indulge their love for Paris by purchasing a family getaway in the affluent seventh arrondissement, he was the first person they called. The interior architect, who works across Europe and the Middle East, had undertaken projects for the married couple with three young children before, and their working relationship is based on mutual trust and understanding. For the refurbishment of their newly acquired apartment, they handed Missir a detailed brief, but also gave him complete freedom to interpret it.
Free reign proved advantageous because the modestly sized dwelling is located on the fourth floor of a 1960s building and was in dire need of a refresh. Missir looked to the opulence of the apartment's surrounds for inspiration and based his concept on the seventh arrondissement's genteel aesthetic.
"I wanted to recreate the energy of France's belle époque," he says. "The district's architectural contributions to inner Paris are legendary, so it was only natural the interior design reflect that and be in harmony with the cultural, artistic and historic elements of the neighbourhood."
The Left Bank apartment overlooks Champs de Mars and has views of the Eiffel Tower, not to mention its proximity to some of France's most popular museums, including Musée d'Orsay. Bringing the outside's energy in was easily done, courtesy of generously sized windows that gently punctuate the main rooms of the three-bedroom home.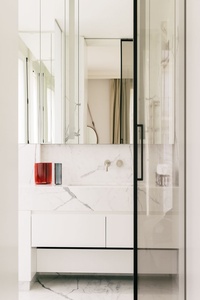 These openings allow for plenty of natural light and, together with the interior's white walls and high ceilings, lend the apartment a luminosity that's ultra-modern yet welcoming. The doorways are wide enough to enable even light penetration and promote easy circulation.
While Missir's overall scheme is a measured study in beauty and elegance, it's underscored by his strongly pragmatic approach. As he explains, "Reconfiguring the interior for functionality was also very important, and I treated each area with careful consideration because each area is inhabited equally on a day-to-day basis."
The rectangular plan made it easy to demarcate the rooms into informal zones for private retreat and social gathering, with bedrooms and bathrooms positioned at one end of the apartment and the kitchen, dining and lounge room, located at the other end. Missir avoids strict compartmentalisation, and although the layout is logical, it's loose enough to provide a neutral backdrop for his exquisite styling.
If the essence of the seventh arrondissement's aristocratic history can be found anywhere, it's in the material palette, which finds its most lush expression in the apartment's mix of high-end flooring. Reclaimed natural oak parquet from Belgium is used in the bedrooms, dining and lounge rooms, alongside dark ceramic tiles in the kitchen, while white marble flooring in the entry and bathrooms offers a crisp visual contrast to the rustic warmth of the pre-loved timber.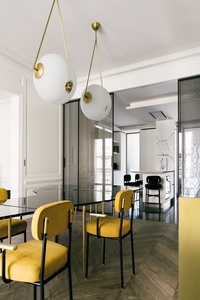 This rich sense of materiality is echoed in the Rimadesio glass door, used to divide the kitchen from dining room, as well as the kitchen's high gloss, white joinery. The effect is decidedly sophisticated, rather than eclectic, and Missir cleverly unites each room through his judicious use of black and coloured furniture and furnishings. They provide elegant accents against white walls and, along with the flooring, prevent the interior from appearing washed out during daylight hours.
They also inject a sense of playfulness and fun into the apartment, and it's apparent their selection was a source of joy for both Missir and his clients. "Realising the clients' vision was, of course, considerably easier because of our working history," he says. "But I was asked to specifically curate the entire furniture selection, and while they had a long wish list, we managed to get there in the end."
The collection is as notable for the individual pieces Missir chose, as it is for how well it's been edited. Nothing is superfluous and yet it doesn't feel unnecessarily pared back. In the dining room, Dualita dining chairs by designers david/nicolas have been upholstered in sumptuous yellow fabric. They complement the similarly coloured finish of the sideboard, which Missir custom designed himself, and the whole arrangement is offset by the striking art deco form of two identical Synapse light pendants by Apparatus Studio.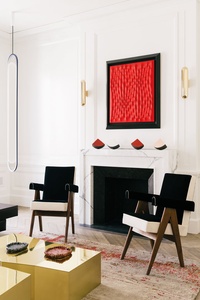 Bold shapes, understated pattern and colour blocking are used throughout to great effect, particularly in the lounge room. It's in this room that Missir's styling reveals the passion he shares with his clients, as they're all avid art collectors.
Integrating artworks from significant contemporary movements, such as Arte Povera, with classic design icons, such as Pierre Jeanneret's armchair and sofa, also reveals Missir's love of mixing old and new, although he's mindful to respect both in regards to the interior's refurbishment.
As he reflects, "I didn't want to change the soul of the apartment, as this is something I don't do. Instead, I attempted to preserve and enhance the timeless spirit of its architecture and tried to create a positive mood befitting the family who lives here."