We meet Nicola and Christopher Cox, a British and New Zealand couple who are producing sculptural furniture and lighting inspired by nature, art and antiques.

As an artist, it's a fine balance between making the work you love and working to make a living. Nicola and Christopher Cox of Cox London have found that balance, creating sculptural furniture and lighting inspired by nature, art and antiques. Each intricate piece is a true labour of love – an expression of their fascination of materials, passion for process and knowledge of techniques.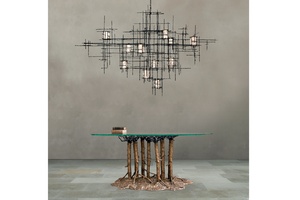 Nicola and Christopher met at Wimbledon School of Art, where they studied fine art and sculpture. New Zealand-born Nicola moved to the UK to work, travel and study, and English-born Chris comes from three generations of antique dealers. Following art school, Nicola and Chris restored antiques, gaining an appreciation for craftsmanship of every era of design, while also working in metalwork and art-related industries.
In the late 1990s, the couple lived in New Zealand where Nicola worked at a bronze foundry and for cast glass artist Ann Robinson. Native bush surrounded Ann's studio in the Waitakere Ranges, and the influence is still clear in many of Nicola's pieces. "The Forest Canopy table offers a surreal view through the tree trunks and up to the canopy, and the Forbidden Fruit chandelier is a quirky expression of a forest, but which began life as a rescued branch," Nicola explains.
Nicola and Chris returned to England in 1999 and officially established Cox London in 2005, carving out a business in which the design of their sculptural furniture and lighting is guided by the technical and experimental process of making it. Twelve years later, they remain hands-on in the conceptual and modelling phases before handing the prototypes to their highly skilled craftsmen at their workshop in Tottenham.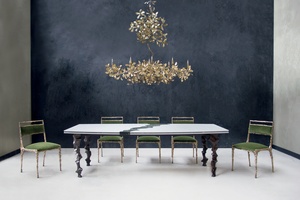 Cox London's elaborate and exuberant pieces have both an antique and modern sensibility that reflects Nicola and Chris' interest in different styles and periods of art and design – the influence being both conscious and subconscious. Clients recently recognised the Golden Oak chandelier as being reminiscent of a wreath in the British Museum, a favourite of Chris' yet one he had forgotten years earlier: "I was delighted to make the reconnection, and it outlined just how important historic pieces are for infusing our work."
This interest is also evident in the Ferro Vitro, which is inspired by the spatial explorations of modernist and constructivist art and demonstrates Nicola and Chris' passion for process. Realised over several years, the architectural structure began life as a table and then wall sconce before Chris and Nicola saw its potential as a chandelier with glass-filled pockets of light.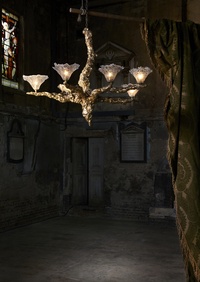 Making the forged rods takes many hours, and due to the size and form of the structure, the glass blowing took months of experimentation. "It was a labour of love, and that one made my heart beat," says Chris.
Likewise, the Magma chandelier was based on a 19th-century vine root chandelier, but it took on a molten metal effect once translated into polished bronze. As each material influenced the next, Nicola and Chris envisioned the light shades as liquid hitting hot metal and used pâte de verre to create sprays of glass. Magma is a limited edition of 10, three of which have been made, so far, in a different finish.
Each piece in Cox London's collection is made to order according to clients' specifications and is predominantly produced for private homes. Other large-scale projects include chandeliers and side tables for a Las Vegas hotel and a pair of intertwining Golden Oak chandeliers with more than 9,000 leaves for an orangery in a historic house in Suffolk. "We've made a lot of oak and olive trees," says Nicola. "One day we'll make a pohutukawa chandelier."