Andrew Kerr profiles two vehicles that reflect the momentum of innovation across the car industry.
At least half of global luxury car sales are now SUVs, but this rises to four out of five luxury motors in our market. Maserati is one of the last cabs off the rank in the premium SUV category, joining the fray with the Levante.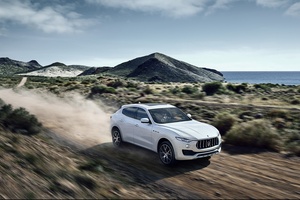 Sharing componentry with its Ghibli and Quattroporte saloon stablemates, it's sleek for a high-rider, with a low centre of gravity and plenty of aluminium in the architecture. But it still tips the scales at around 2,200kg, partly due to the lavish interior trappings and tech features.
The mix of high-grade Italian leather and variety of wood means there's more interior flair than in the more businesslike cabins of SUV rivals. If in need of additional interior pedigree, you can opt to detail the leather interior with silk, hand stitched by menswear luxury brand Ermenegildo Zegna. Infotainment is by Harmon Kardon and audio by Bowers & Wilkins.
With diesel dominant in the SUV propulsion stakes, it's unsurprising that Maserati has made its 3.0-litre V6 turbodiesel mandatory for the Levante down under. The deal-clinchers, for many, will be 600Nm of torque at 2,000rpm and that famous Trident on the gaping front grille.
Porsche continues to hone and tone the Boxster, which recently celebrated 20 years since its showroom debut. This new base model is a seriously compelling performance proposition despite a downsized 2.0-litre engine that uses turbocharging to compensate for a drop in cylinder count, from six to four. Meanwhile the 718 badging references Porsche's competition past and is shared with the new Cayman, confirming the blood relationship between the Boxster and its fixed-head sibling.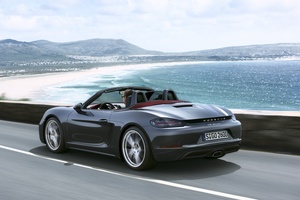 The 2.0-litre car emits a two-tone, off-beat burble and is more powerful than the six-cylinder car it replaces. Our PDK automatic test car demonstrated very smooth power delivery and ample punch with maximum torque delivered from less than 2,000rpm, enabling it to scamper from rest to 100km/h in less than five seconds. It's an impressively rapid machine, happily revving to 7,500rpm and displaying an outstanding blend of ride and handling for a stiffly sprung open-top. It stops well, too, as it inherits the braking system from the previous Boxster S. 
With this kind of pace and grace, you're unlikely to feel short-changed by the reduction in cubic capacity, while the basic car's cabin improvements also move the game on markedly. For instance, the new touchscreen is a welcome evolution that looks more modern and offers much-improved functionality.
Of course, there's a strong sense of familiarity in the Boxster design, yet it's all changed, with the exception of boot lid, roof and windscreen. Key design features are new air intakes that feed the turbocharger, redesigned headlights with standard daytime running lights and a Porsche-branded accent strip that sits between the tail lights to embellish the rear end.