Model your kitchen at Blum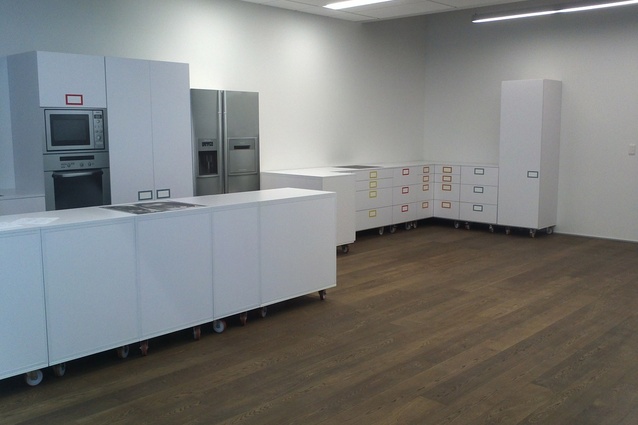 I will be the first to admit it is somewhat ironic for me to be writing about storage and systems for keeping everything tidy and ordered being someone who is 'eclectic' in tidiness at the best of times. However, perhaps due to my inability to keep neat, I find fittings and fixtures designed for every purpose – mechanical cupboards, corner units that pull out on the diagonal, drawer inserts – oddly fascinating. So when I popped into the newly opened Blum Showroom in Auckland, having a look at their hinge systems and the rest proved far more enthralling than you might assume. 
You have to hand it to them as well. For having a somewhat difficult product to market creatively (hinges and fittings don't usually spring to mind when you think sexy), they have been incredibly innovative within their stylish showroom (it's worth going out just to have a drink on their sunny deck that looks back towards Auckland city). My favourite – especially having just completed a kitchen renovation – was their kitchen modeling room. In this space they have all these cabinets, false fridges and the rest that you can move around and effectively build you kitchen plan letting you check if you are going to have enough bench space or the proximity of one thing to another. It really is quite a simple idea, but so handy. If you are thinking of doing a new kitchen, head out to check it out and get building it before you actually build it.