Motoring: flying high with BMW
Urbis gets a glimpse at the BMW ethos and test drives some of the most impressive members of its fleet.
We boarded the Airbus Squirrel chopper on one of those rare, crisp sunny winter mornings and headed west from a seaside heliport on Auckland's Mechanic's Bay. According to the invitation, this was to be an introduction to some of the latest and most extravagant offerings from BMW.
The flight was punctuated by sights that would normally be fairly commonplace but which from a high altitude take on a much more dramatic if not abstract personality. Stacked containers and idle ships in Ports of Auckland and rows of yachts bobbing on the Westhaven Marina seemed symmetrical and purposeful like handwriting in some strange but precise language.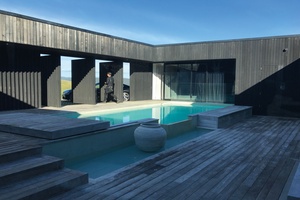 With an equal force of speed, we were deposited above the Tasman where the Squirrel hugged the ragged coastline. It was only after passing Piha that we began to make for land again, approaching a perilous cliff where Parihoa Farm – a single, sleek, low-lying black house designed by Patterson Associates – stood.
The imposing weatherboard construction in the middle of a lush, undulating paddock was flanked by a fleet of new BMWs, including the new 7 Series, BMW's flagship M760Li, the 6 Series Gran Coupé, the M6 and the i8 Sports Coupé.
We drove several; we fell for two: the M760Li and the i8. The interiors of the first one (a v12 limo with a jaw-dropping amount of power and technology) seems to have been based on a commercial jet's first-class cabin. Light coloured merino leather stitched immaculately in black, info-tainment systems, full window shades at the touch of a button… the list goes on.
Most impressive, however, in terms of interior comfort is the rear left seat, which automatically turns into a nearly fully reclinable lounge seat. The M760Li is BMW's pièce de résistance, its single most luxurious machine and as such, is made with comfort (and a chauffer) in mind.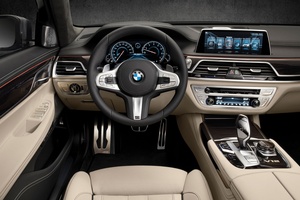 The i8 was equally impressive but for entirely different reasons: it has a sporty design made to turn heads while at the same time boasting green credentials (it is a plug-in hybrid and some of the interior materials are recycled).
Performance-wise, it is swift and commanding. It hugs corners like a champ, and the scissor doors – although requiring some contortion power – are plain fun to open and look at. Whereas the M760Li has 'executive' written all over it, the i8 is a relaxed, fun, agile beast with good looks and personality to match.
Our drive was followed by an excellent degustation lunch made on site by BMW's ambassador Josh Emmett and his team and paired with Dom Pérignon (2006 vintages), Cloudy Bay and Hennessy. There was a pianist tinkering away on site; the sights over the Tasman were immaculate.