Motoring: November edition
Andrew Kerr checks out some new offerings from McLaren, Nissan and Mazda.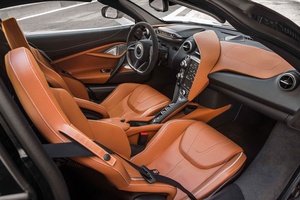 McLaren 720S:
British supercar maker ups the ante in replacing its core model.
McLaren Automotive is a fledgling company with incredible momentum. It only came into being in 2010, yet the second generation of its core Super Series is already in showrooms. Badged 720S, the new model might be a mid-grade McLaren (bracketed by the volume Sports Series cars and the limited-run Ultimate Series) but its performance potential blurs the divide between modern supercar and hypercar. And not only does the 720S show how quickly things evolve at McLaren it also spearheads a business plan that will see 15 new model variants introduced by the end of 2022.
But first, the 720S undercuts competitors on weight thanks to its lighter and stiffer carbon-fibre structure and body panels formed from both carbon and aluminium. In combination with a heavily revised V8 that remains mid-mounted but is set lower in the structure, the power-to-weight ratio is 15 per cent better than its 650S predecessor. Capacity has risen to 4.0 litres, and the two turbos are more efficient, with turbines that spool more quickly. The bottom line, as the model name suggests, is peak output of 720 horsepower (537kW). It sounds intimidating, but the performance is surprisingly approachable.
Equally important are gains in both dynamic capability and usability. For instance, software changes have improved shift speed and smoothness regardless of which driving mode (Comfort, Sport, Track) is engaged; Variable Drift function means sliding the car is easily achievable without loss of control; and an electro-hydraulic steering rack delivers greater feel than the purely electric systems widely employed in this category.
The lower-set engine means air flows more cleanly over the roof to a rear wing, which becomes increasingly critical as speed mounts. Various wing settings influence straight-line acceleration, cornering behaviour and also stability under braking. The same could be said for the adaptive suspension.
There's no question the new-era model benefits from the R&D work that went into producing the Ultimate Series hypercars. But the 720S designers also deserve credit for their bravery in building a car that looks distinctly different from the car it replaces. A new frontal feature is the pair of 'eye sockets' that house broad cooling vents as well as compact LED lights. McLaren's term for the headlights is Static Adaptive. Of the 17 LEDs in each unit, five are fixed on the road ahead while 12 move with the direction of the car.
So stiff is the structure that the design team has been able to incorporate a deep windscreen and ultra-slim pillars supporting a teardrop-shaped glasshouse. Visibility is surprisingly good as a result, and the cabin with its driver-focused simplicity is considerably more airy than that of its rivals. Comfort is a priority judging by the vast range of seating and wheel adjustments and the overall feel is of unique sporting sophistication.
An innovation in the dihedral doors is a new 'double-skin' design, which sees air channelled directly to the engine from those front sockets and through the bodywork, rather than through side scoops, resulting in smooth flanks and haunches. When inspecting this internal structure, you notice that the doors are now hinged closer to the centre of the roof, so they require much less space to open fully. It's a feature you'll appreciate in the restaurant carpark or in your dream double garage.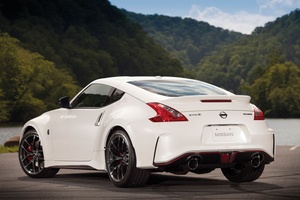 Design driven:
Nissan 370Z Nismo
The recent arrival of Nismo, Nissan's highly-regarded sporting sub-brand, speaks volumes of the rude health of our car market. We already punch well above our weight in terms of vehicle choice, especially the variety of models with a performance or design edge.
The bullish 370Z Nismo delivers both. Its compact body benefits from tasteful new spoilers, additional ducting and diffusers, while broad, lightweight wheels fill the arches and further signal intent. Inside, hip-clenching Recaro sports seats are a mix of leather and brash cloth inserts. They offer great support and a fine outward view, but all seat adjustments are manual. So too is the transmission, which is a very good thing in a car that majors on engagement and boasts a large rev counter in the middle of its instrument cluster.
Gear selection reveals a strong mechanical feel to the lever with positive engagement and clutch action. Taut suspension settings and the very broad Bridgestones are immediately obvious, but this car is easy and entertaining to pedal from the outset with feelsome steering, strong brakes and gearshifts to savour. An 'S-mode' button beside the transmission allows rev-matching auto-blips that are very pronounced when shifting down.
The gutsy V6 redlines at 7,500rpm and loves to be extended. It adds just 8kW and 8Nm in Nismo guise, but a strong mid-range and linear power delivery have you punching ahead with a glorious growl.
The harder the Nismo is pressed, the more it comes into its own on fast, testing roads. The meaty hydraulic steering is consistent and inspires confidence, the suspension tuning improves the car's balance and the bespoke tyres dispense extra grip, making the power relatively easy to exploit. Some weight loss would sharpen the experience, however, and frequent road roar negates the value of the sound system.
Overall, the Nismo treatment transforms a popular old-school choice into a more engaging and entertaining proposition. It's expected to sell in small numbers at a price reflecting a 20 per cent premium over Nissan's regular 370Z.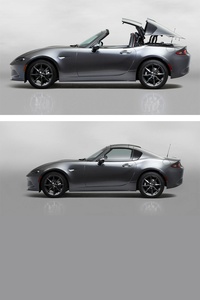 Model watch:
Mazda MX-5 RF
The full embrace of summer is some way off, but it's still nice to welcome bursts of blue sky and spring sunshine into a snug cabin with a touch-button retractable roof. None act more swiftly than the folding hardtop of the Mazda MX-5 RF, which transforms the newcomer from svelte, buttressed coupé to open-air funster in 13 seconds flat, even when on the move. An example of Mazda engineering at its best, the mechanics of this roof are mesmerising to watch. The bonus is an extra dose of practicality and greater refinement than MX-5 drivers enjoy in the equivalent roadster.
The hardtop is a three-section affair constructed from steel, aluminium and plastic. It has three-layer headlining for refinement, and when it folds away, the glass rear window goes with it but the fastback-style buttresses remain in place. This fixed rear section means more protection from buffeting than the roadster with its small wind deflector.
Up front, the free-revving 2.0-litre remains the engine of choice and slick six-speed manual and auto gearboxes offer engagement or convenience in equal measure. The only obvious RF penalty (aside from a small price premium) is a 45kg increase in weight with most of it centred in one area of a small, light car. Efforts to counter it through revised steering and suspension settings are effective, but you might still notice a little more roll through fast bends. And while the RF presents a stunning profile and is brilliantly executed, in these eyes, the overall design can't trump the purity of the roadster's lines.