New Plymouth: out and about
From above, Mount Taranaki forms a bull's-eye of green and white. From below, it's an ever-present backdrop to the region that bears its name.
Thoughtful urban design guided New Plymouth from the beginning, when in 1840 surveyor Frederic Carrington (commemorated today by a popular restaurant that bears his name) laid out a plan for the town that delineated sections for settlers, and included streets, squares, hospitals, schools and parks surrounded by boulevards.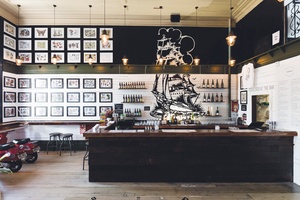 Fast-forward a century and a half: residents and visitors to New Plymouth can snowboard, ski, water ski and surf all in the same day. Better still, a vibrant restaurant and hospitality scene means that the morning can begin with a top-notch cup of coffee, and it's easy to spend an evening strolling through the charming town centre, or people watching from one of many eateries.
A philanthropic bequest extended New Plymouth's identity from bustling coastal town to art haven. Monica Brewster's 1962 gift of £50,000 founded the first art museum in New Zealand dedicated to contemporary art. The Govett-Brewster Art Gallery hosted Kinetic Works, the inaugural exhibition of artist Len Lye's work in the country he'd left 50 years before. In support of what he called "the swingingest gallery in the Antipodes", Lye established the Len Lye Foundation to continue his legacy "for the public benefit of the people of New Zealand".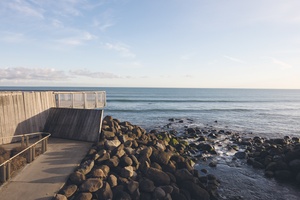 The Coastal Walkway is centred by Lye's Wind Wand, and its construction effectively re-oriented the town's outlook 180 degrees, from the mountain to the sea. And what a sea. Typical of the west coast, it is a surfer's dream, and the Fitzroy and East End surf clubs are popular gathering spots.
Likewise, the Taranaki Arts Festival Trust (TAFT) presents five major festivals: WOMAD New Zealand; the Taranaki International Festival of the Arts; the Taranaki Garden Spectacular; Tropfest and the biennial Kinetika. Add to that a perpetual round of farmers' markets and craft fairs, a vibrant amateur theatre and music scene, and a host of smaller galleries, studios, pop-up boutiques and community events.
Landscape architect Richard Bain describes the region: The mountain really is the hub of the wheel. It creates a real connection between culture and landscape, so when you're here, you also feel connected to everyone else.
New Plymouth Insiders Guide
PLACES
The Coastal Walkway: Twelve-plus kilometres of oceanfront, with the Wind Wand in the middle. The award-winning Te Rewa Rewa bridge is at one end, the port and Ngamotu Beach at the other. Along the way, stop to check out the surfers at Fitzroy and East End.
Pukekura Park: If New Plymouth were Manhattan, this 'garden of national significance' would be Central Park. Native and exotic plants serve as backdrop to man-made attractions including the picturesque Poet's Bridge (1884) and Tea House on the Lake (1930s). Pukekura Park is a popular events venue, with a cricket oval and the Bowl of Brooklands amphitheatre. 
Egmont National Park: Majestic Mt Taranaki (2518m) is the central point of the 34,170ha Egmont National Park. Replete with indigenous flora, native birds and waterfalls, a variety of walks and hikes – from one hour to three days – are on offer. 
Sugar Loaf Islands: Rent a kayak and paddle out to the seal colony on these three islands. 
EAT & DRINK
Ozone Coffee: While the beans are brewed by any number of local eateries, the roastery and headquarters is on King Street, just across from the Govett-Brewster. 
The Hour Glass: Named as the best spot for a late-night drink by just about everyone we spoke to, this is the local's local. 
Social Kitchen: Communal dining and shared plates with a decidedly charcoal-grilled carnivorous twist in a bistro setting on one of New Plymouth's main streets.
Sushi Ninja: Try the sake trio sampler with a selection of Japanese nibbles to share. If you're still hungry, the tuna yukke (sashimi, avocado and homemade sesame dressing) is can't-miss.
Kathakali: Tucked amid the many shopfronts of Devon Street, authentic Southern Indian cuisine – especially the masala dosa and other dosas – makes this a local favourite.   
ARTS & EVENTS
Govett-Brewster Art Gallery and Len Lye Centre: New Zealand's only gallery dedicated to a single artist (Lye) expands the legacy of benefactress Monica Brewster. Current and planned refurbishments to adjacent Monica's restaurant, the White Hart Hotel and Queen Street itself will make this area a pedestrian-only plaza.
The New Plymouth Operatic Society: The NPOS has existed, in one form or another, for over 120 years producing local iterations of West End and Broadway hits.
WOMAD: New Zealand's biggest cultural, music, arts and dance festival. People travel from around the globe to perform and enjoy three days of music and culture.
Kinetika: In the spirit of Len Lye, this biennial competition (next in 2016) celebrates beauty and innovation through kinetic art and design.
SHOPS
Jetcharm Barbershop: The 19th and 21st centuries converge here, where handlebars and imperials meet tattoos and espresso. 
Et Vous: Et Vous offers a collection of local and international clothing, footwear and handbags, and accessories.
Plantation Design House: Architecture, interior design and decorating meet in this concept store.
WHERE TO STAY
Hosking House: A 10-minute walk from the centre of town, this boutique B&B blends period architecture with contemporary comfort and thoughtful service.
AhuAhu Beach Villas: In nearby Oakura, these unique and handcrafted villas offer spectacular ocean views in an unspoilt rural location.