Brazil's furniture design is best known for rich timbers, earth tones, and chunky elegance. Urbis talks to Pedro Paulo Venzon, who is rethinking these traditions and boldly turning them on their head.
Urbis: How did you come to design?
Pedro Paulo Venzon: My father works with carpentry, and my mother is an artisan and seamstress. This proximity to making, to forms, to objects, and their relationships has brought me to the world of the artefact and the world of forms and aesthetics. 
Urbis: Much of your furniture is created out of simple shapes.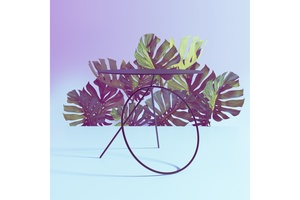 PPV: Yes, my idea is to always make things exhaustively simple. I am used to starting with complex things and then editing them down. I always work with forms of découpage – formal, conceptual, material. Currently, what interests me the most is to leave this clean and observe what is the limit existent between simplicity and expression.
Urbis: Some of your work looks as if it might be quite precarious to use. Is this edginess intentional?
PPV: It is a deliberate game between being fragile and functional. The precariousness you first notice is always there but what I do is go beyond that, creating pieces that can be effectively used. You will see this construction in many pieces… they all flirt with deconstruction – they seem too light, unbalanced, but they are perfectly functional. The exercise is about what design is all about: what is the limit of a design piece. 
Urbis: How do you choose colours?
PPV: Most of what I work on appears in black. It is as if I withdraw an expression artifice and keep only the eidetic part of the work. I am, nonetheless, an attentive observer of designers who worked in Brazil during the mid-20th century – and the colour black is there… almost omnipresent.
Urbis: How do you choose materials?
PPV: The materials pick me, actually! In Brazil there are currently many pieces produced from wood, because there is a beautiful legacy from the likes of Zanine Caldas or Joaquim Tenreiro. But I often try to do something slightly different [in steel] and more on the vein of Flávio de Carvalho.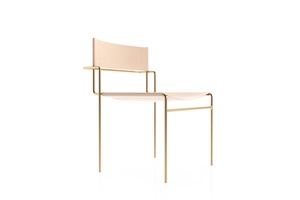 Urbis: What are you working on?
PPV: My new pieces are still playing with their limits. This time, I am looking for the excess, the adornment. The process is still in flow, but I am creating a series of objects that are on the threshold between minimalism and profusion. Watch this space!
Urbis: What is going on in current Brazilian design?
PPV: This is a country with fascinating cultural complexity and that is reflected in design. We are going through a phase in which three things are happening: first, there is a recovery – both national and international – of the local high modernists and highly established practitioners; then, there are designers who have already gained a reputation internationally, or those who have long-lived, consistant careers; and at last, there is a group of new designers coming from several regions of the country, arising from distinct speeches and traditions. All that forms a scenario that can be chaotic, but filled with delicious possibilities.